Hanoi / Halong Bay / Trangan (1 Night Cruise)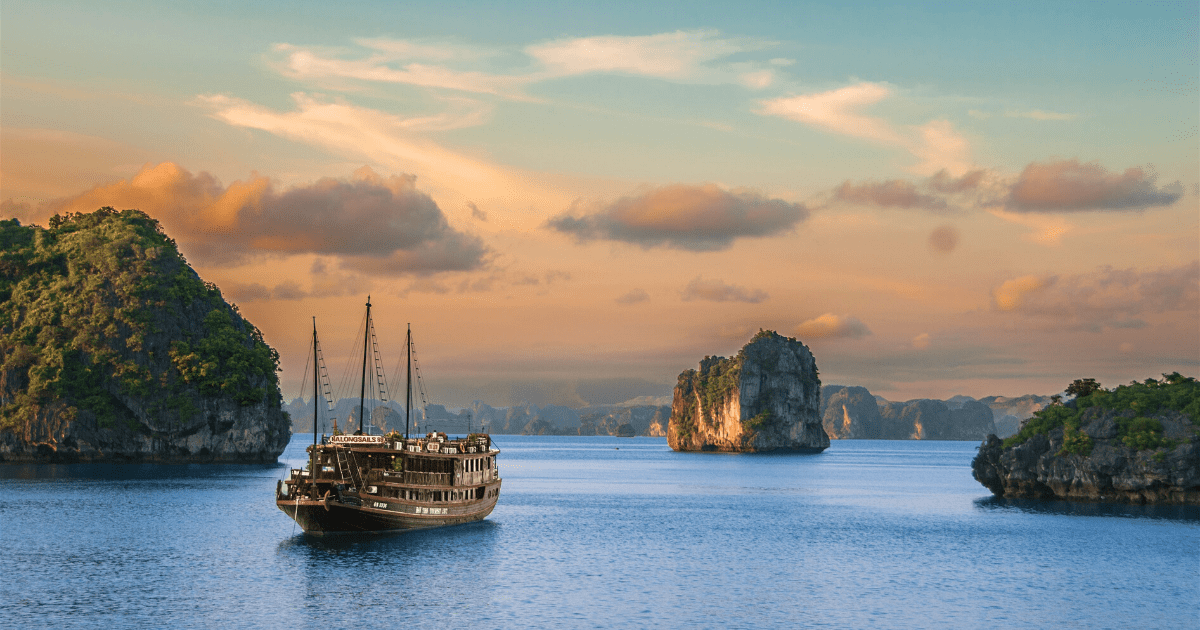 Travel Package by Malaysian Harmony
From RM2,299 / person
---
Overview
Day 1: Kuala Lumpur - Hanoi
Upon arrival at Noi Bai International airport, meet by our representative
- Tran Quoc Pagoda @ West Lake then to Ba Dinh Square and photo stops at Presidential Palace, St Joseph Cathedral and Hanoi Opera House.
- Guided walking tour + electric cart tour in Hanoi Old Quarter & French Quarter. Hanoi Old Quarter has a long history of 2000 years of development which is the beating heart old the city. The quarter consists mainly of 36 Old Streets divided and named according to their craft guides in the past and remain most of that working system until now. This area is also the eternal soul of Hanoian cultural architecture, historic relics and religious centre.
- Enjoy complimentary foot massage services
Day 2: Hanoi - Hoa Lu - Hanoi
- Hoa Lu Ancient Capital: In 968, Dinh Bo Linh declared himself as the King. Since then Hoa Lu existed as the capital for the next 41 years (968 - 1009), of which 12 years was under the Dinh dynasty - King Dinh Tien Hoang, the country named Dai Co Viet, and 29 years later was under the Le dynasty - King Le Dai Hanh. In 1010, King Ly Thai to move the capital from Hoa Lu to Thang Long - present Hanoi. Hoa Lu became the old citadel. In Hoa Lu there are now 2 temples built on the ground of the old royal palace, one is dedicated to King Dinh Tien Hoang, the other is to King Le Dai Hanh. The visit offers a chance to know more about part of feudal dynasties and historical periods in Vietnamese history.
- Bich Dong: a pagoda on nearby Ngu Nhac Mountain dating to 1428, comprising three structures: Hạ Trung, and Thuong Pagodas, in ascending order. Guided tours generally cover historical points and end with a pleasant view from the top.
- Boat ride to Trang An Grottoes: it is similar to Tam Coc but with many more caves to pass through, Trang An which is a gathering of 31 valleys, 50 cross-water caves, and home to 600 kinds of flora and over 200 kinds of fauna, many of them in the Red Book of Vietnam. While rowing through Trang An grotto in the quiet, fresh air of the highlands, with only the sound of birds and the oars stirring the clear water and surrounded by magnificent forested mountains upon which graze white goats, visitors enjoy a heaven on earth.
Day 3: Hanoi - Halong Bay
- Depart for Halong Bay (estimate time 4hrs)
- Upon arrival Tuan Chau island, start cruising and explore Halong Bay. Enjoy a lunch while cruising through the bay, passing the most beautiful islets and quiet areas
- Tung Sau area: covered by leaping rocks, cultured pearl fishery; here you can see the process of the jewel from harvesting and sculpting. Moreover, you can have a chance to do kayaking based on your preference.
- Titop Beach: where you can enjoy swimming (subject to weather conditions), also may track to the hill top which take 15-20 minutes to enjoy the panoramic view of Halong Bay.
- Return to cruise, participate cooking demonstration activities; guests may also enjoy swimming activities (subject to weather conditions) or just relax on board of cruise for spectacular sunset view in individual room or at the sun deck.
- Dinner will start around 1930 hours and dress code is casual. After dinner, you may also enjoy board and card games or join squid fishing with crew members (without charges), enjoy a night with blanket of stars.
Day 4: Halong Bay - Hanoi
- Enjoy sunrise view on this beautiful bay, continental breakfast will serve on board.
- Sung Sot Cave (Surprised Cave): Ascending to the grotto, the way is covered by trees and foliage, and consists of great paved stone blocks. Inside, it is partitioned into two chambers; the first one being similar to a wide theatre hall. Many strangely shaped stalactites hang from the high ceiling. A narrow passage leads to the second room, where a flow of light meets visitors. The chamber is so immense it could contain thousands of people at one time. At the deepest point of the grotto, a royal garden appears with a clear pond and a seemingly fascinating landscape of mountains.
- Enjoy lunch serves on board then disembark at Tuan Chau Tourists' Harbor and return to hotel in Hanoi.
Day 5: Hanoi - Kuala Lumpur
After breakfast, free until the file for departure flight.
---