Top 20 Attractions in Ipoh (2024)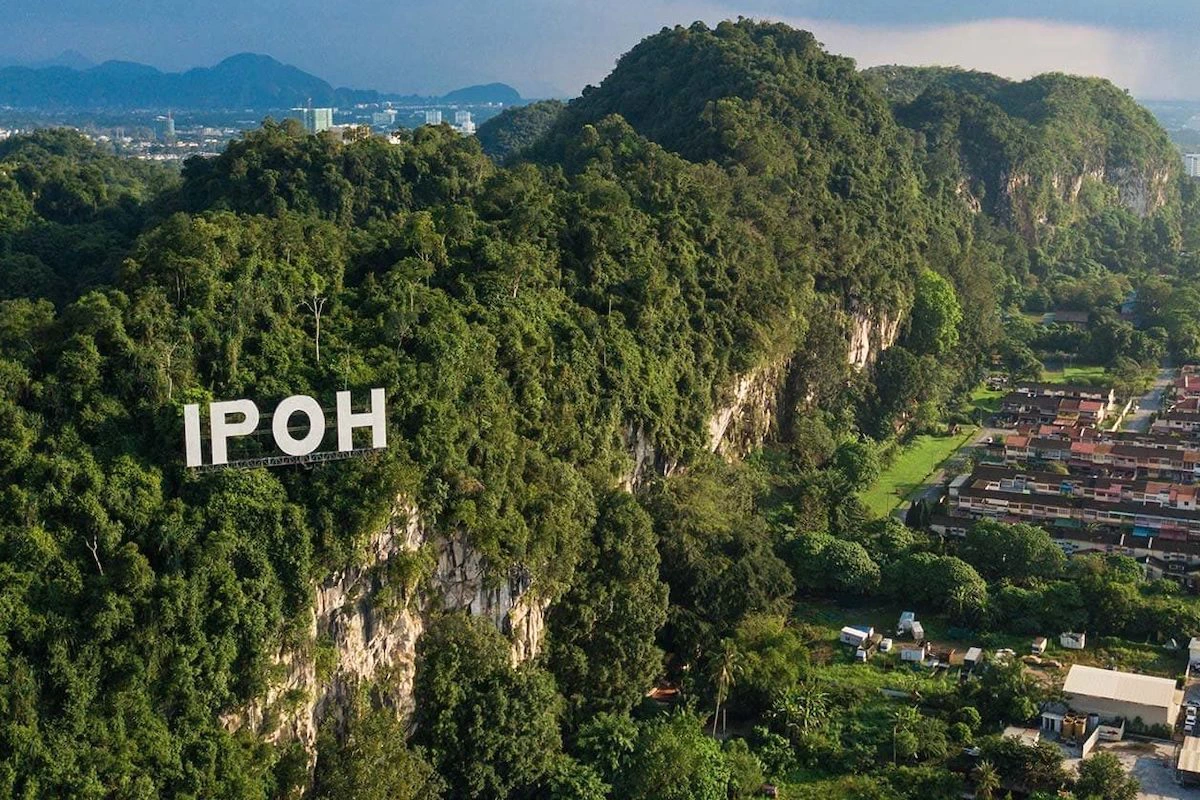 Located around 200km north of Kuala Lumpur is Ipoh, the capital of Perak with a fast-growing population. Apart from that, it's also one of Malaysia's most popular cities for various food, activities and attractions. With so many places to visit, here are some of the top attractions in Ipoh you should check out.
1. Ipoh State Mosque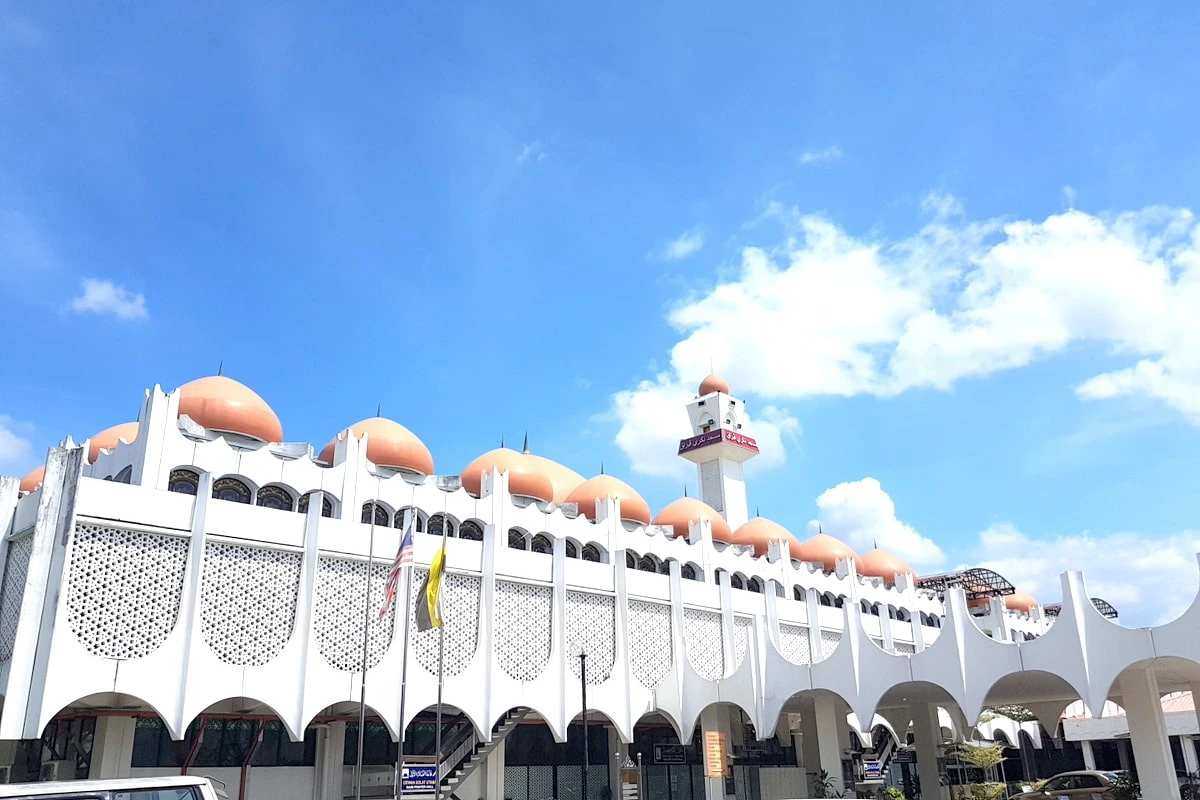 One of the first must-visit attractions in Ipoh is the Sultan Idris Shah II Mosque, also known as the Ipoh State Mosque. This mosque was completed in 1968 and is located opposite the Ipoh Railway Station, making it a convenient place to visit. One of the stand-out features of this mosque which has domes and a 38-metre high minaret, is the white walls.
The white walls are decorated with tiny Islamic mosaic tiles that shine in the sunlight inside Ipoh's biggest mosque. It also has a library, conference centre, and an open area that frequently doubles as a wedding location.
2. Birch Memorial Clock Tower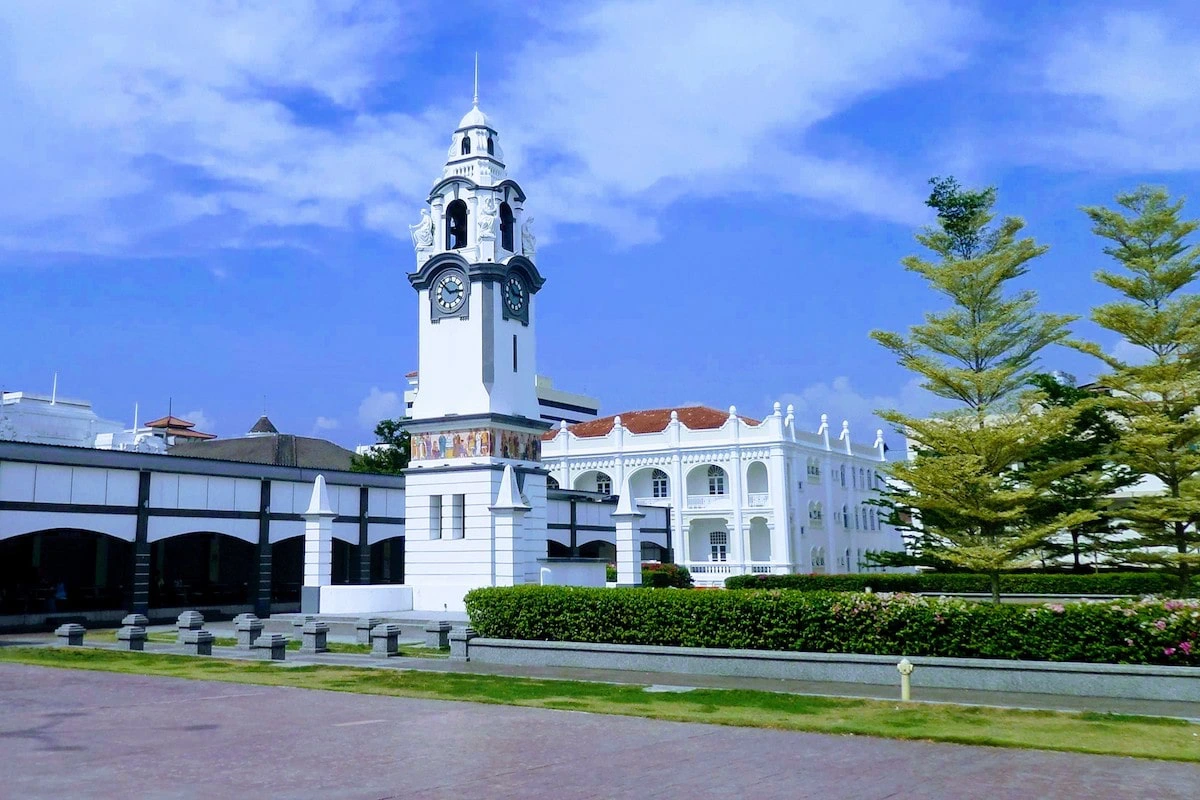 Another one of the many attractions in Ipoh that you should visit is the Birch Memorial Clock Tower. Officially opened in 1909, the clock tower was constructed to memorial James Birch, the first British resident of Perak murdered by local Malay chiefs in 1875. The building has an air-conditioned staircase that leads up top, where you can get a good view of Ipoh and its surroundings while enjoying this excellent structure.
If you like to spend more time on the ground, you will be pleased to know that it is a relatively quiet spot with a bench overlooking a beautiful garden. You can also catch a glimpse of Malay craftsmanship in the intricate wood carvings at Birch Memorial Clock Tower. Ironically, the street located north of this tower is named after Dato Maharajalela, James Birch's murderer.
3. Ipoh Mural Art Trail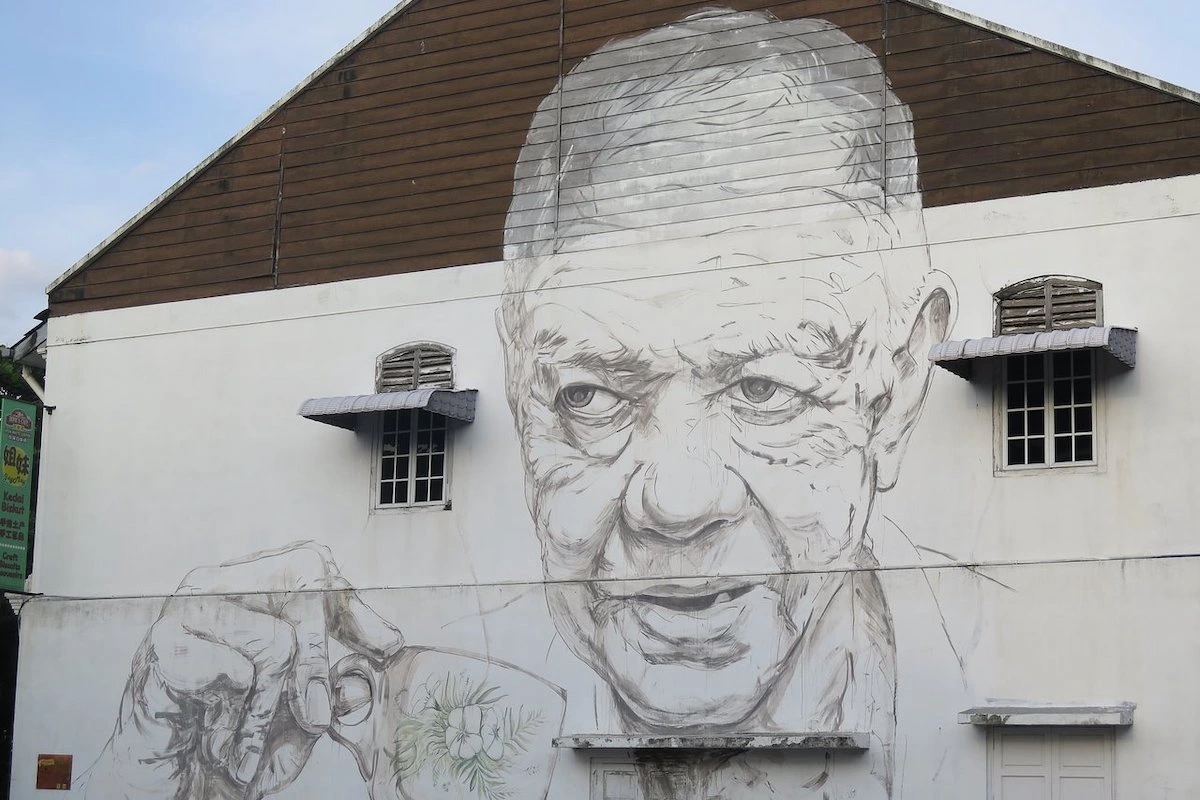 The Ipoh Mural Art Trail was started by Eric Lai, a city resident, to give life to some of Ipoh's backstreets. This initiative led to colourful murals depicting cultural and traditional aspects of local life adorning the walls of Panglima Street. Among the murals you can expect are Malaysians from all races and backgrounds, family scenes and favourite childhood activities, and Indian and Chinese dances that have rapidly made this art trail one of the must-visit attractions in Ipoh.
4. Perak Tong Cave Temple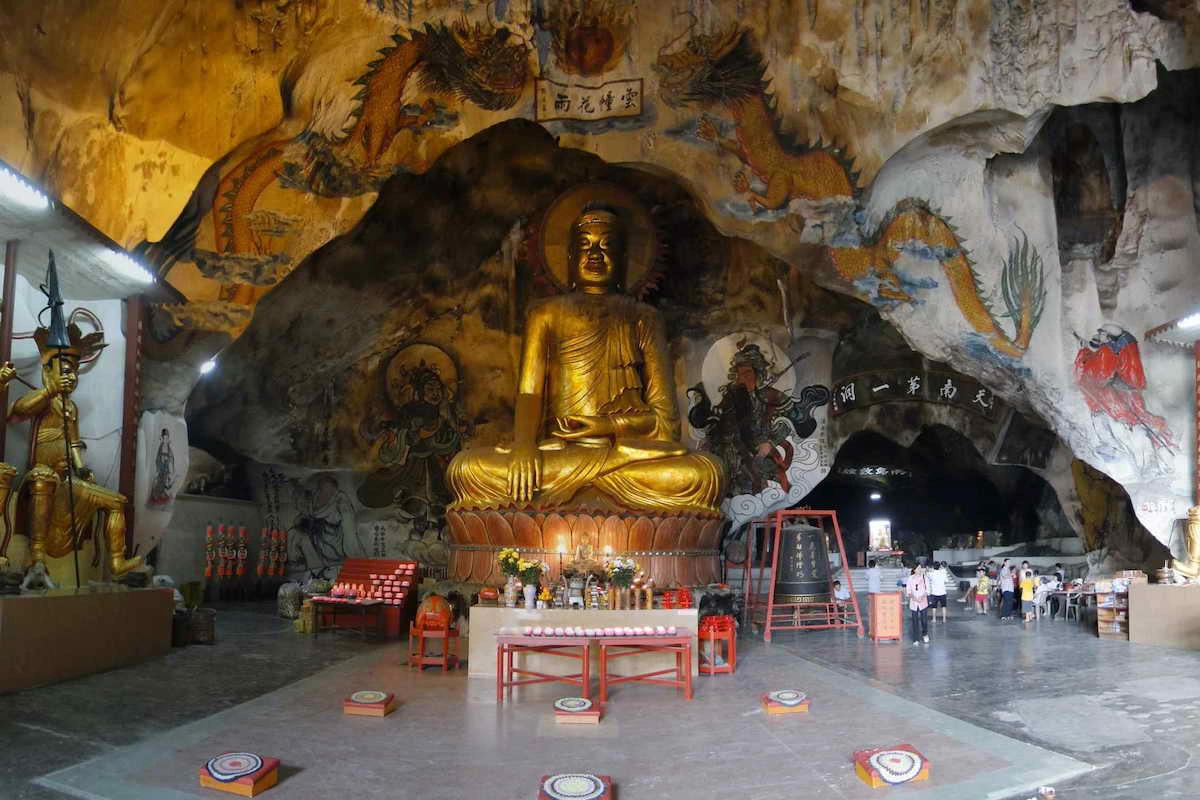 Perak Tong Cave Temple was a Buddhist sanctuary in the early 20th century, according to local folklore. In 1926, a Chinese Buddhist reportedly stumbled upon the cave and converted it into a monastery which is now one of Ipoh's most popular attractions. When visitors enter the limestone caverns, a golden Buddha greets them as the focal point. A faint light also illuminates the cavern at Perak Tong Cave Temple, and large limestone walls stretch high to form a vaulted ceiling.
Inside, several murals, Chinese calligraphy, and statues lend an exotic and mysterious atmosphere to the place. For those adventurous, you can make your way up the 400 steep stone steps to the 360-degree viewing deck overlooking Ipoh city for a stunning view of the city. The temperature inside the temple is cooling despite the tropical heat outside, making it an ideal spot to escape the summer sun. Tourists can also buy snacks at stalls right outside of this exciting Ipoh attraction.
5. Sam Poh Tong Cave Temple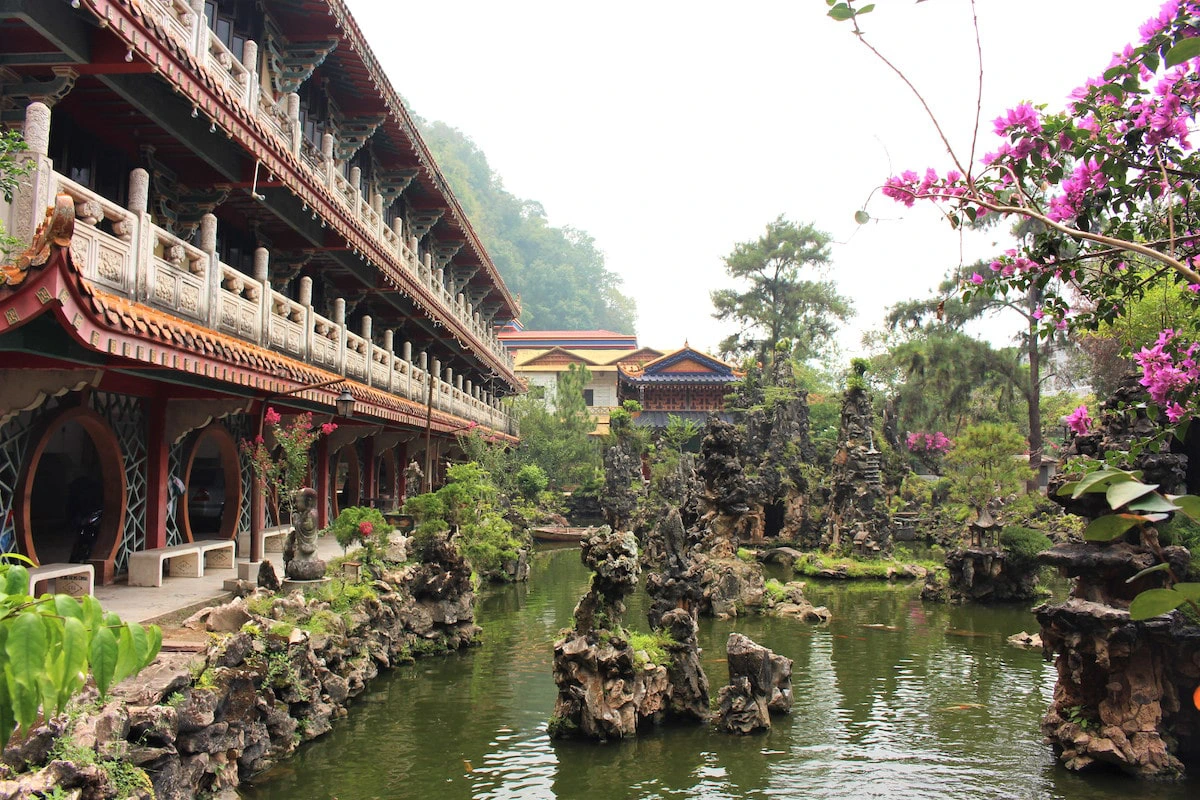 The Sam Poh Tong Cave Temple is one of Malaysia's largest and oldest cave temples. Located about 5 kilometres southeast of Ipoh's historic area, it also houses some beautiful carvings typical for traditional Chinese artwork. The outside facade has an entrance covered in elaborate designs similar to those found on homes across Asia. These features can be seen clearly when you walk through them into the tunnels, where visitors will eventually come face-to-face with a large Cavern housing Buddhists' most important religious symbol – a Buddha statue at its heart!
The cave is a natural formation with stalactites and stalagmites, and located at the heart of the dark cavern lies a small pool supposedly used by Buddhist settlers in the area as a place to meditate. According to legend, the first discovery of this cave can be traced back to the late 1800s by a Chinese monk who meditated in it for 20 years before his eventual death. Apart from bronze statues which can be found inside the cavern, where smoke from burning incense fills the air, there is also a trek through the cave, which takes you to a viewing platform.
6. Tambun Cave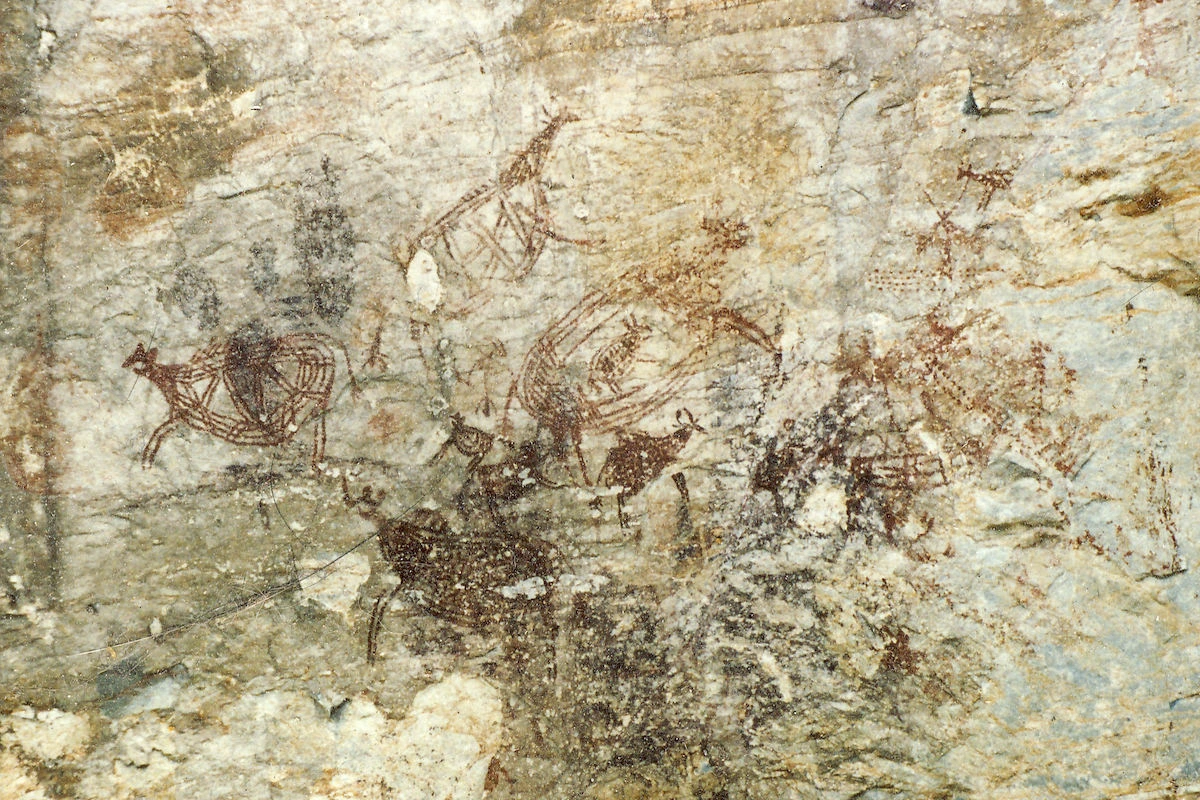 The Tambun Cave has what is thought to be Malaysia's most extensive collection of Neolithic art at 600 images and is among the most well-known attractions in Ipoh. The discovery of this cave can be traced back to 1959, when a British soldier inadvertently discovered the reddish-orange markings on the face of the limestone cliff before finally being declared a National Heritage in 1986 by the Ipoh City Council.
The artwork, which is believed to be between 2,000 and 5,000 years old, adorns the rock face on the side of a hill. Unfortunately, the lower portion has been vandalised. To get to this place, you can take a cab or Grab to Caltex Petrol Station on the road towards Tambun if you want to go by car. Follow the signs up the steps to the limestone cave as you walk along the lane towards the field, and you will pass over a bridge before reaching it.
7. Kek Lok Tong Cave Temple (Cave of Ultimate Bliss)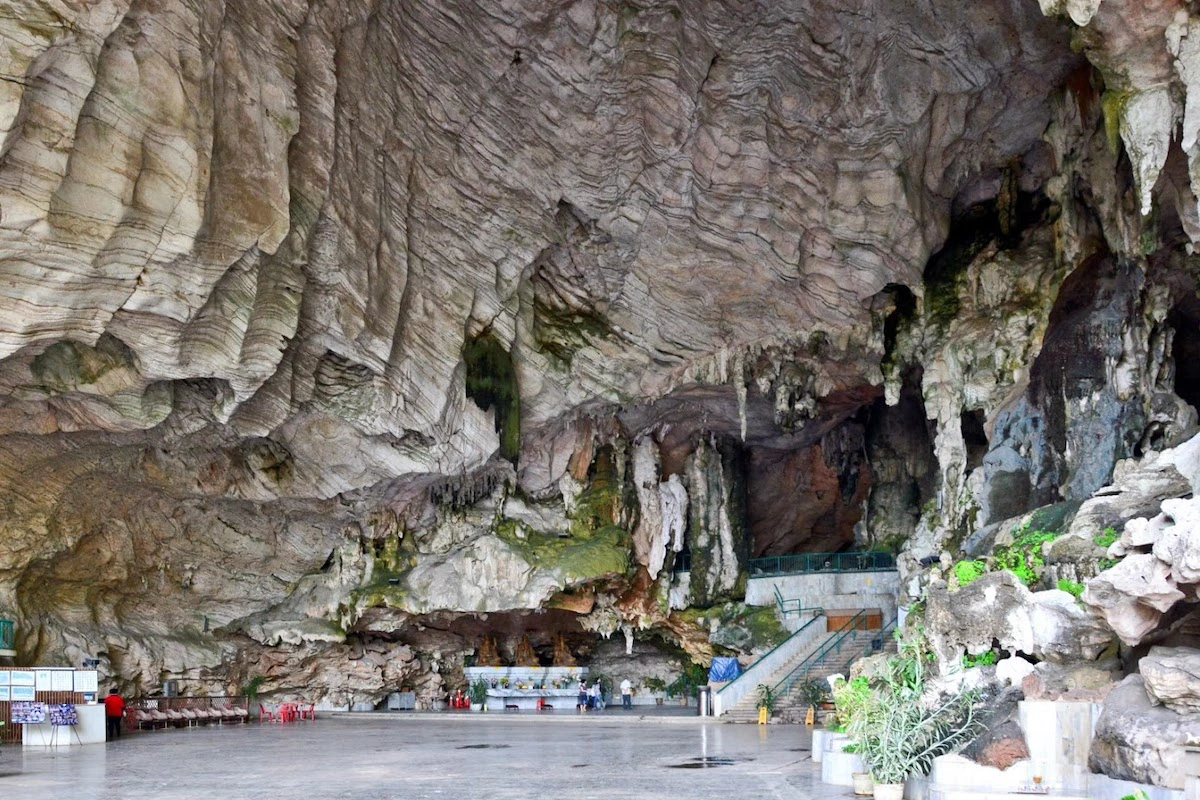 Ipoh's Kek Lok Tong Cave Temple is a natural and picturesque landmark. This Ipoh attraction was part of an ancient iron mining site in 1960 but was used for religious purposes as early as 1920 when it became known by locals near Gunung Rapat. It only gained tourists later due to its scenic beauty after being featured prominently in many travel magazines!
The Kek Lok Tong complex is a fascinating place in Ipoh, Malaysia. The caves themselves are pretty large and encompass many different deities from the Chinese pantheon, with Buddhist figures mixed into them. There's also another garden view once you get inside of these temples – an award-winning landscape that has been beautifully designed for optimum relaxation! Not only will you be able to find a jogging path circling two lakes, but you will also get to experience an extensive reflexology footpath that is one of the longest in Malaysia.
8. MBI Clock Tower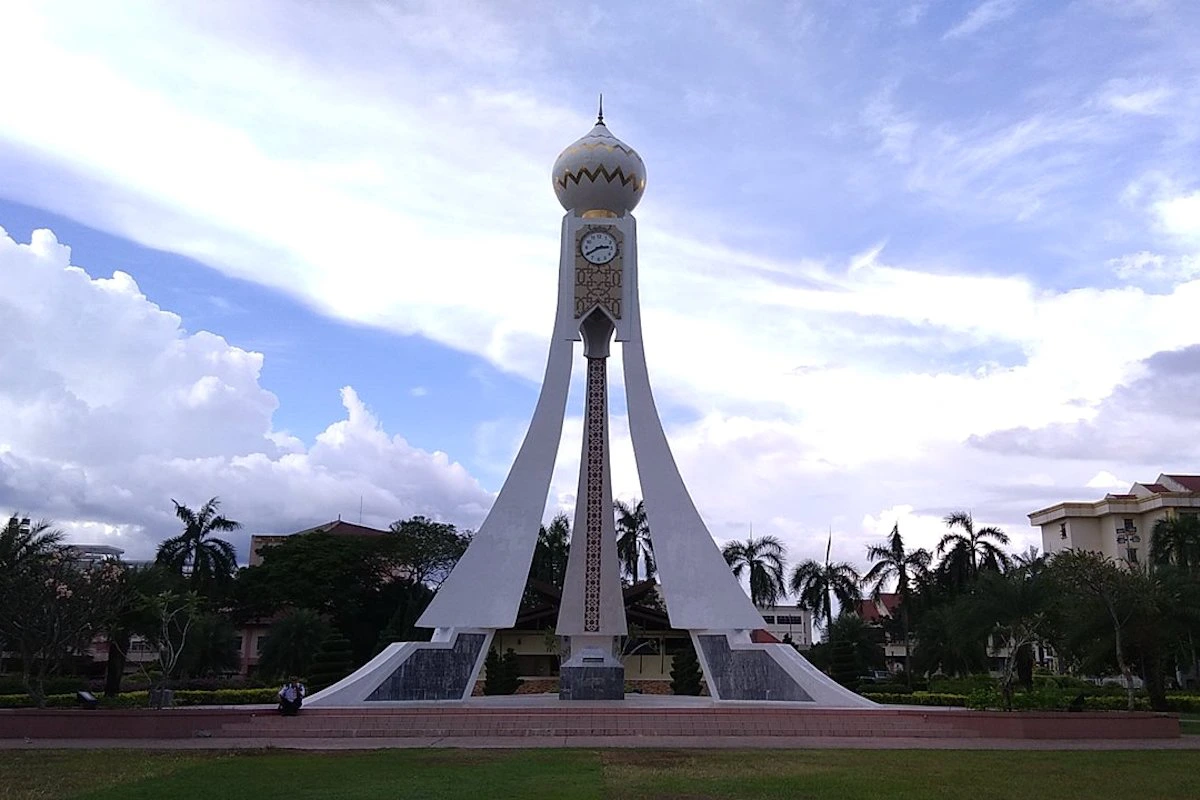 The MBI Clock Tower is a modern, and unusual Malay Islamic themed clock tower with three pillars located in Dataran Park. It's an excellent place for visitors who want to experience some quality time outdoors or relax after shopping at nearby shops on Ipoh's outdoor food street (famous among locals). The stately square features beautiful buildings surrounding it; perfect scenery at any time.
9. DR Seenivasagam Recreational Park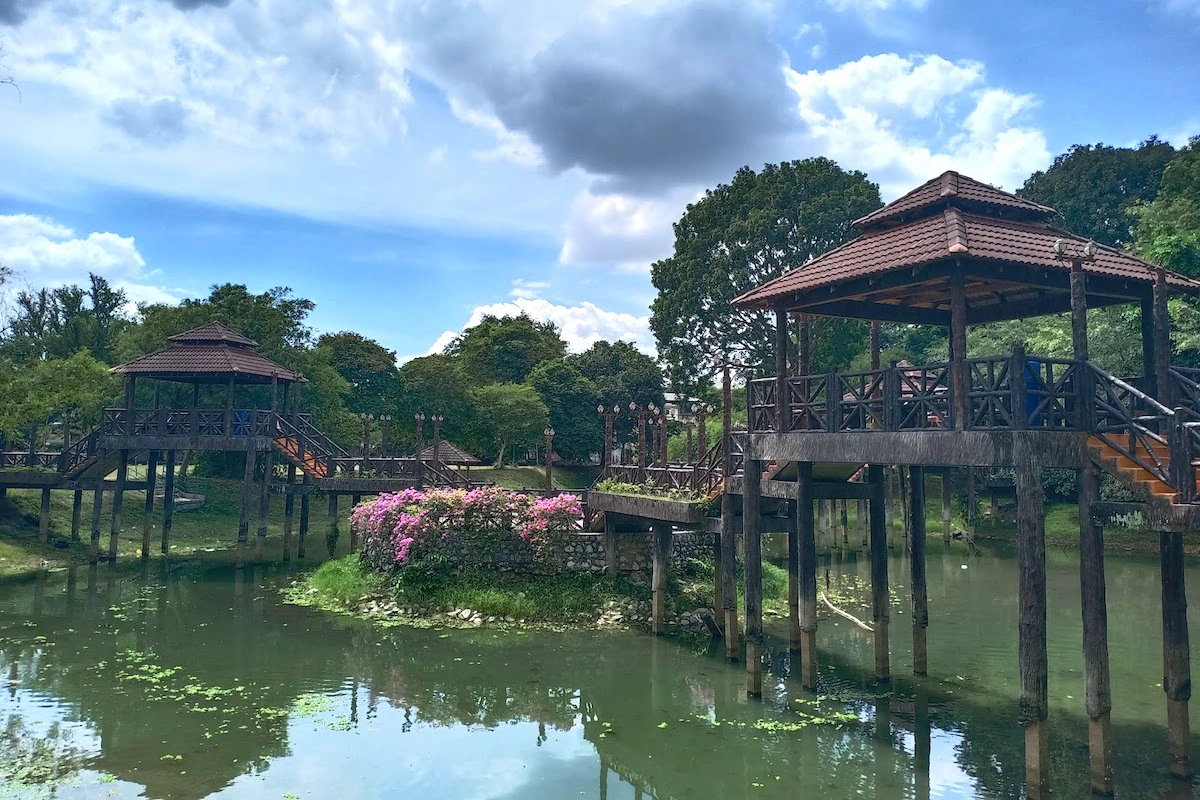 If you're looking for an enjoyable place to spend your free time in Ipoh, look no further than DR Seenivasagam Recreational Park. It was opened to commemorate Queen Elizabeth II's coronation and named Coronation Park initially before it was subsequently renamed. One of the main highlights in this park is the Japanese Garden (which replicates the atmosphere and style of the usual Japanese garden with a red-styled bridge) which was opened with assistance from Fukuoka City Hall back when they were jointly declared as sisters city in 1989.
10. Kallumalai Arulmigu Subramaniyar Temple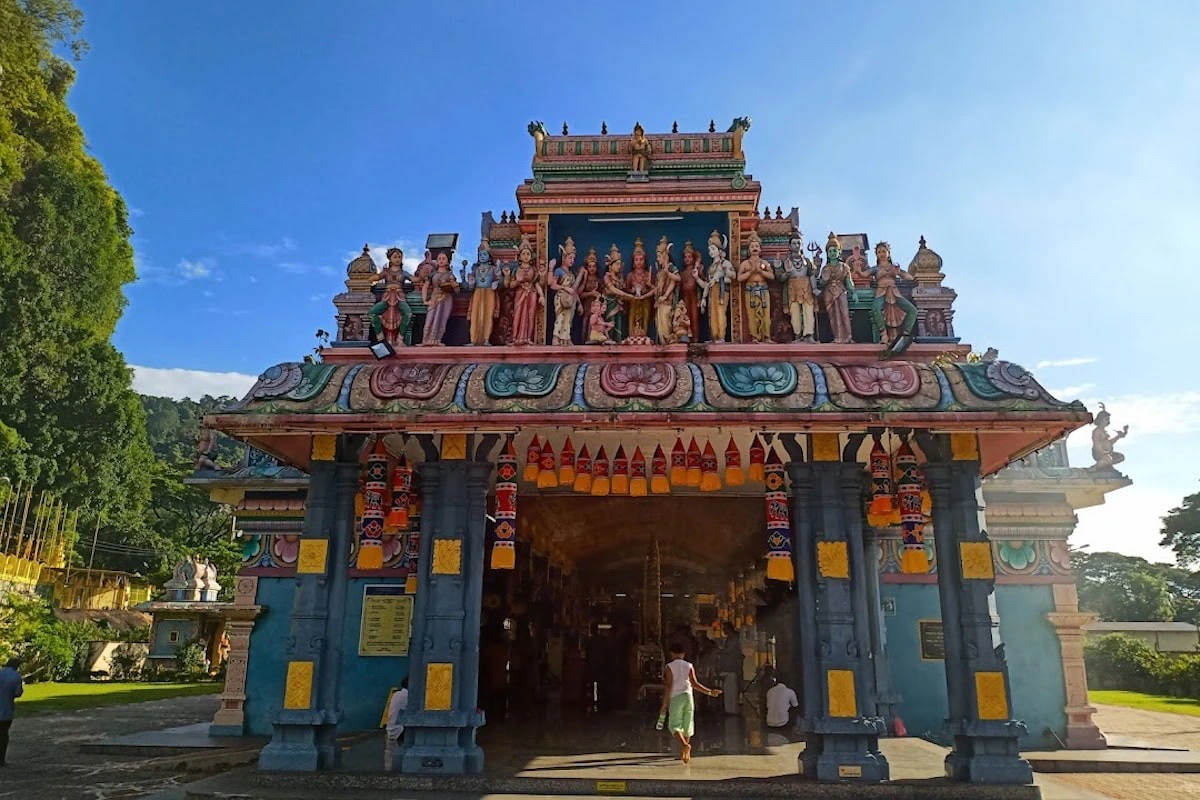 Kallumalai Arulmigu Subramaniyar Temple is a Hindu temple located next to a limestone cliff in the vicinity of DR Seenivasagam Recreational Park. This area becomes tranquil and deserted outside of prayer hours, making it an ideal place for some quiet reflection and appreciation of the surroundings. While this temple may seem to lack anything remarkable, the view from the terrace against the cliffs is not to be missed, especially if you are looking to capture amazing sceneries.
11. Sunway Lost World of Tambun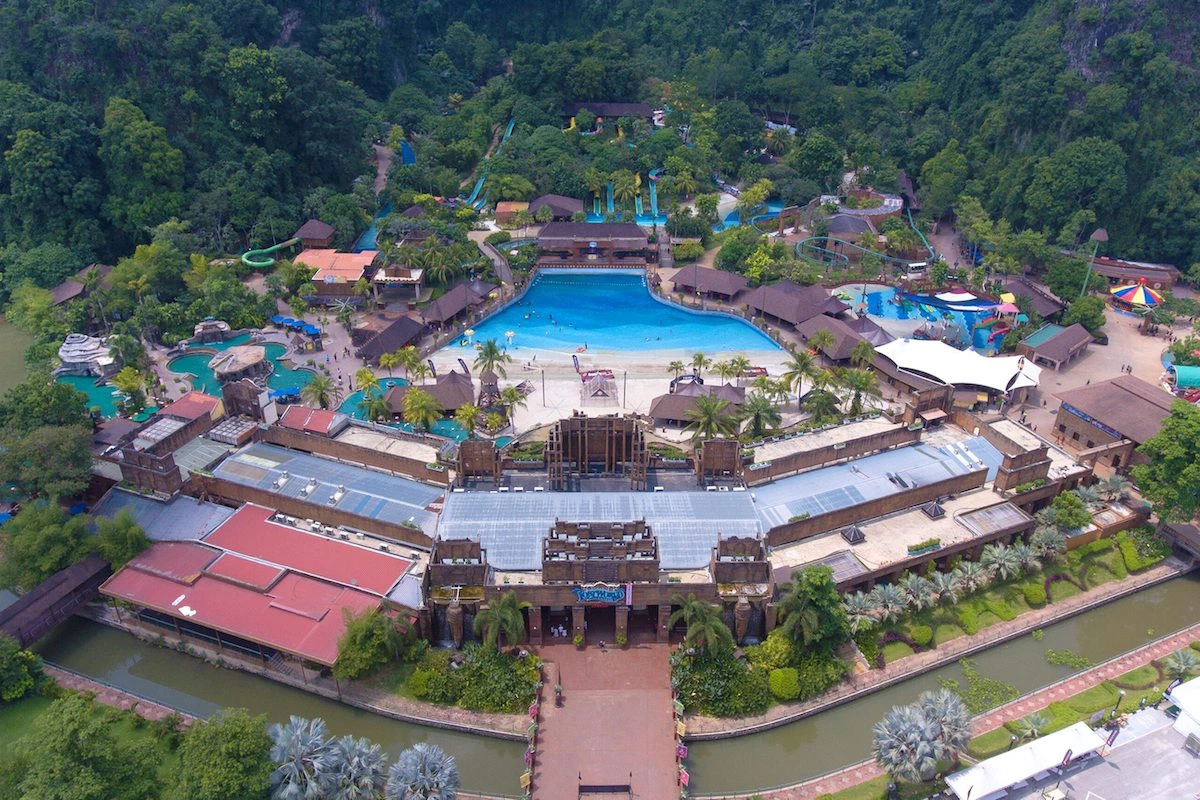 Sunway Lost World of Tambun, one of the premier attractions in Ipoh is a theme park developed by Sunway Group for the city. It has an outdoor rides area and water attractions for your enjoyment, but what makes it different from other theme parks in Malaysia? The 100% natural mineral hot spring spa with healing powers! The natural mineral hot spring spa has healing properties for skin problems ranging from eczema through psoriasis, while boosting blood circulation helps reduce stress levels, making this one of the ideal attractions in Ipoh.
12. Tempurung Cave (Gua Tempurung)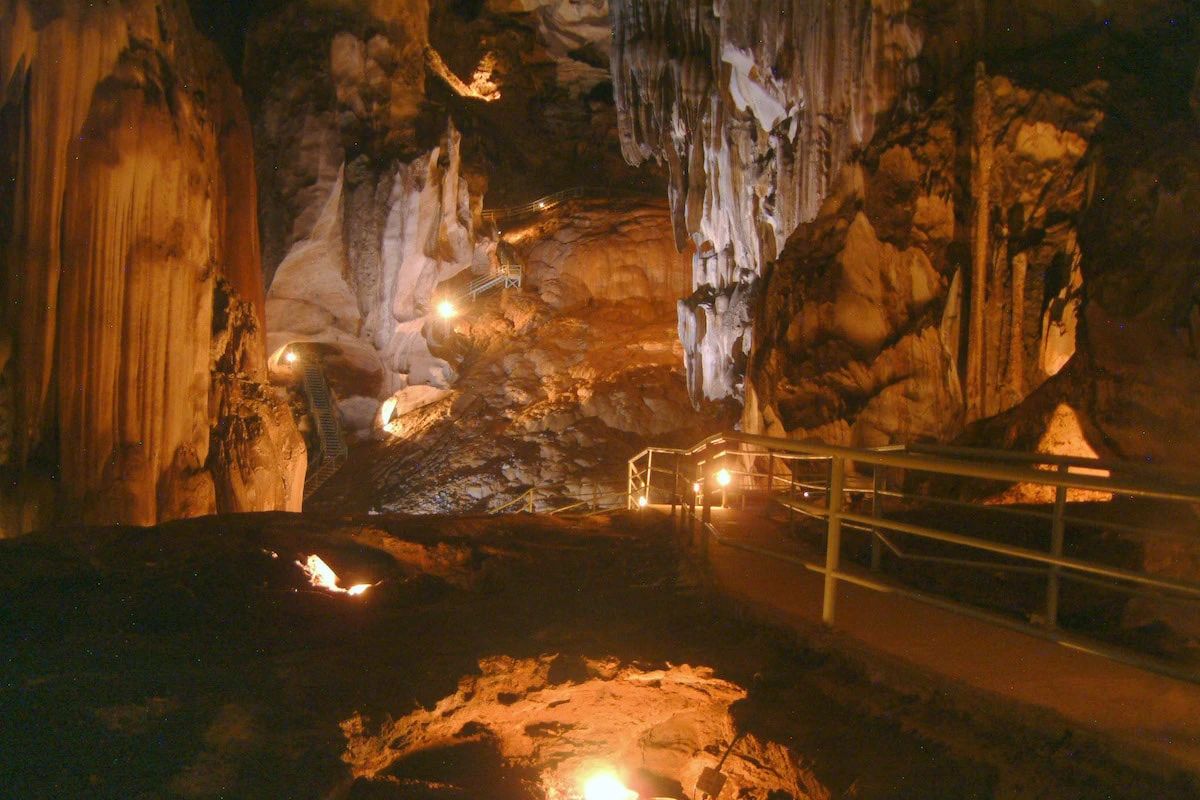 Tempurung Cave is a limestone cave in Peninsular Malaysia with five giant domes that resemble coconut shells when viewed from afar. This 400-million-year-old landmark is often visited by mountain climbers and caving enthusiasts alike for its remarkable formations. If you are one of those who enjoy caving or climbing to new heights, you will be happy to know that there are various tours available for you outside the cave.
13. Gunung Lang Recreational Park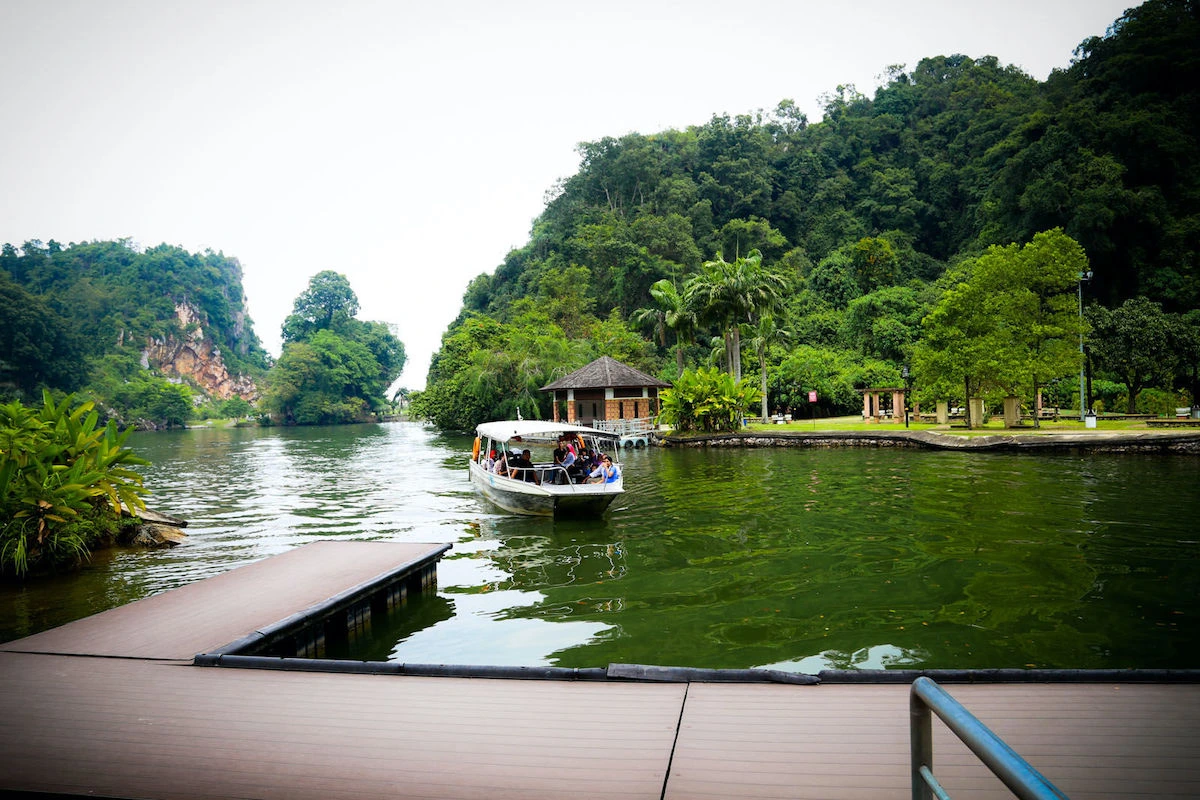 The Gunung Lang Recreational Park is a place of wonder and beauty. It has such rich forest that it's hard not to get lost in your thoughts while walking through this area, with many hidden gems along the way like waterfalls falling from limestone hillsides or a lookout tower for you to have a bird's eye view across all 30 hectares of the park. There are also other amenities available here, such as children's play areas, mini zoos (with some dedicated animal care), and campsites if you want to stay the night closer to nature.
14. Ho Yan Hor Museum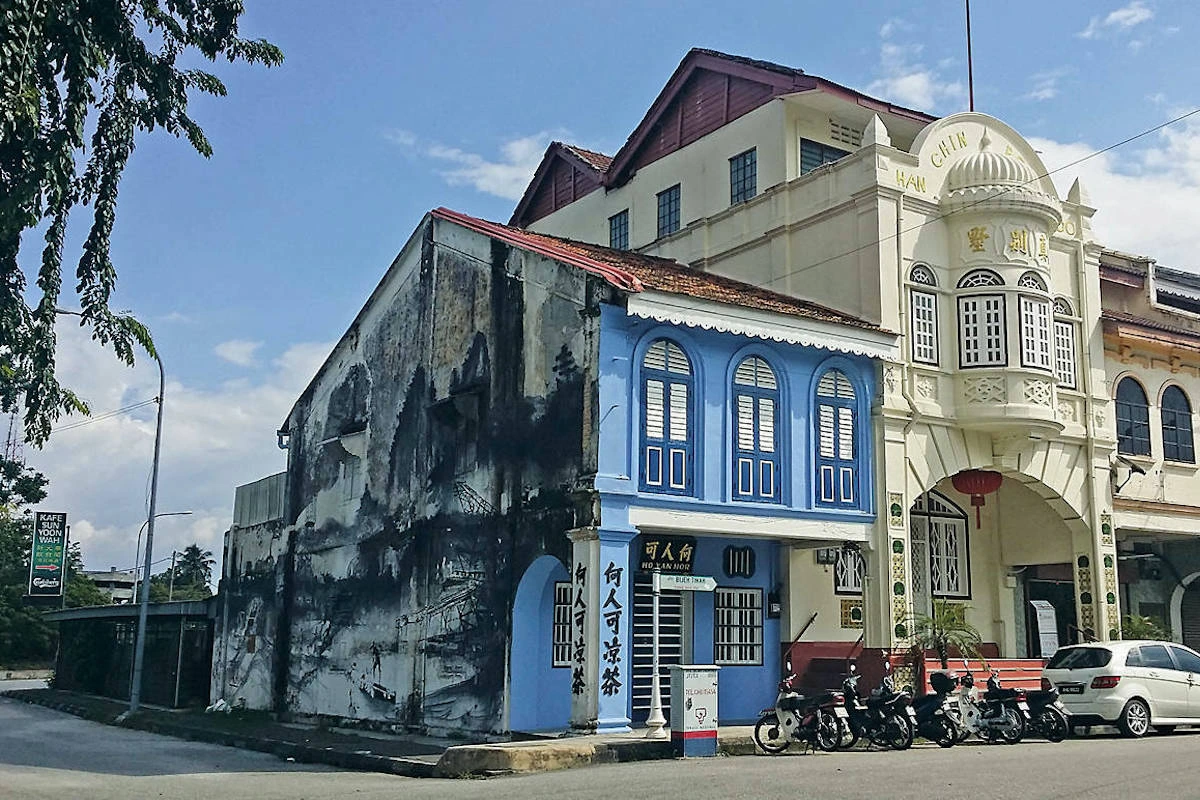 The museum is about the life and legacy of Dr Ho Kai Cheong, a local herbalist and inventor who created Ho Yan Hor in 1941 as an aid for those suffering from flu and other cold-related ailments. The herbal tea has proven helpful to the locals over the years as not only was it effective, it was also inexpensive. Over 80 years since then and more than just about health benefits, Ho Yan Hor also symbolises the local's significant emotional and physical well-being.
15. Concubine Lane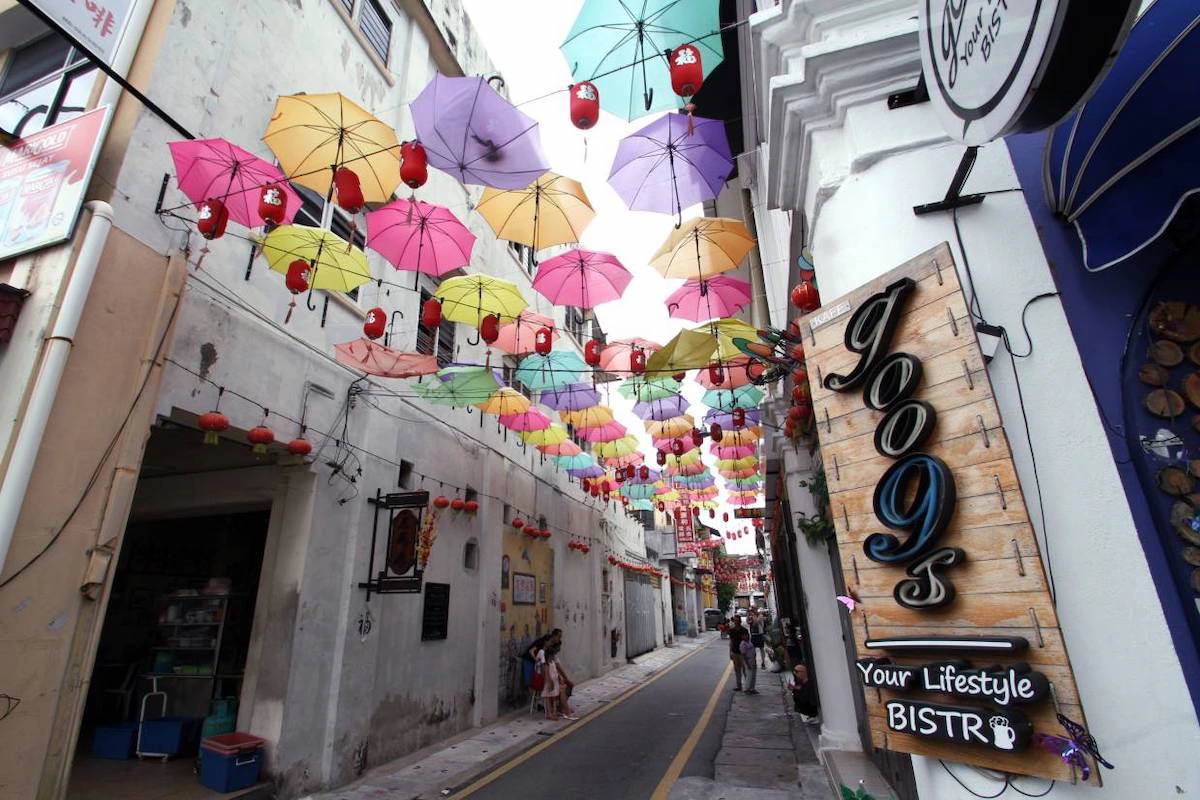 The Concubine Lane in Perak, Malaysia, is a must-see Ipoh attraction for any traveller. This heritage lane has been given to the wives of a mining tycoon after the old town was burned down during colonial rule. This is why Concubine Lane has three different sections: one for each wife and another area that connects them, making it unique compared to other similar-looking streets around Perak. With the state government efforts, many murals, cafes and boutique hotels started mushrooming here, making this one of the hottest spots among locals and tourists.
16. Gerbang Malam Ipoh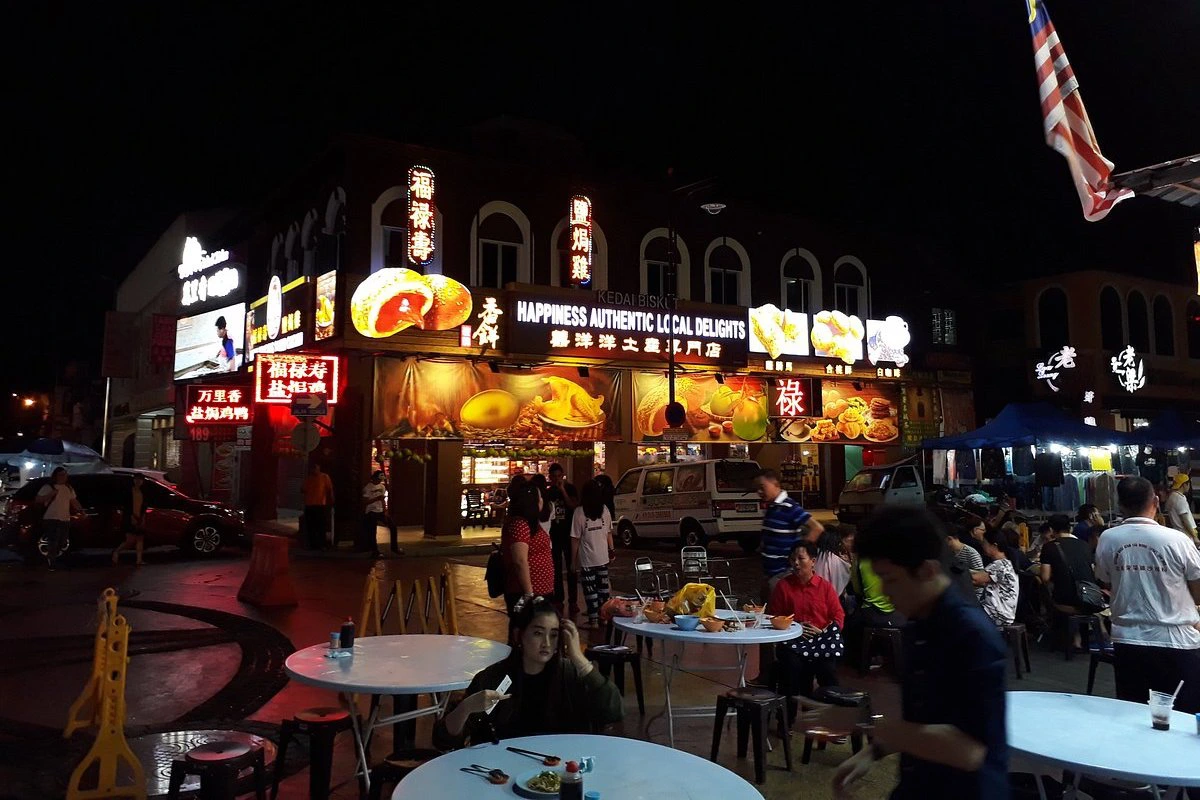 If you are looking for a place to visit during the night, you should check out Gerbang Malam Ipoh. As one of the attractions in Ipoh popular among locals, you can find some cheap souvenirs and items such as shirts and handicrafts here. When you are done shopping, you will be glad to know that you can fill your stomach in one of the many famous restaurants around here.
17. Kong Heng Square Artisan Market
It is a revitalised area, where what was once filled with abandoned old buildings is now one of the most popular attractions in Ipoh. For those who love taking pictures, you will be excited to know plenty of picture-perfect spots for your photography. If pictures are not your thing, worry not as there is a local artisan market selling handicrafts – many of them are handmade. When you are hungry or feeling hot from the weather, you can enjoy a bowl of delicious cold dessert "Ais Kepal" (Shaved Iceball) available nearby.
18. Banjaran Hotsprings Retreat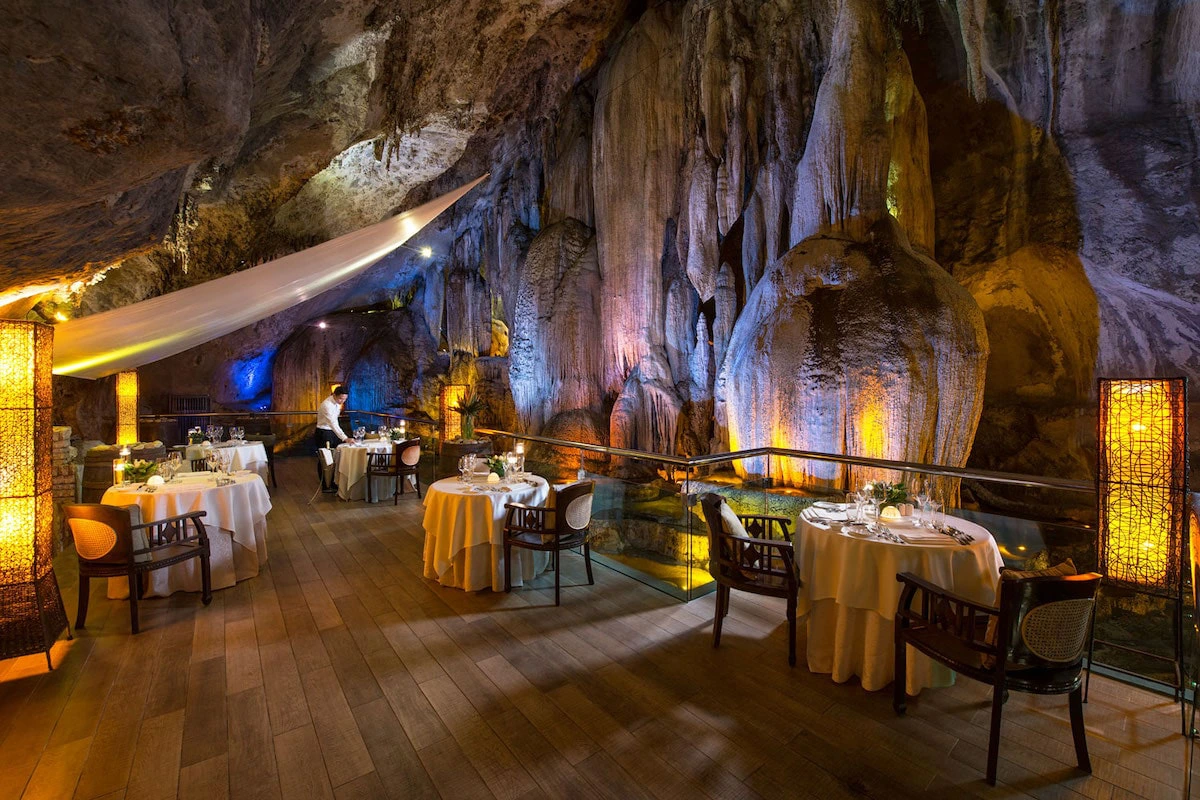 Imagine sitting by the pool, listening to soothing music as you sip on an expensive glass of wine. This is not your average night at home; instead, it will rejuvenate every part of your body and soul! Banjaran Hotsprings Retreat has everything guests could ask for in their ideal getaway – from kidney massages with essential oils up through luxurious spas complete with marble floors decorated artfully along its pathways.
19. Ipoh Railway Station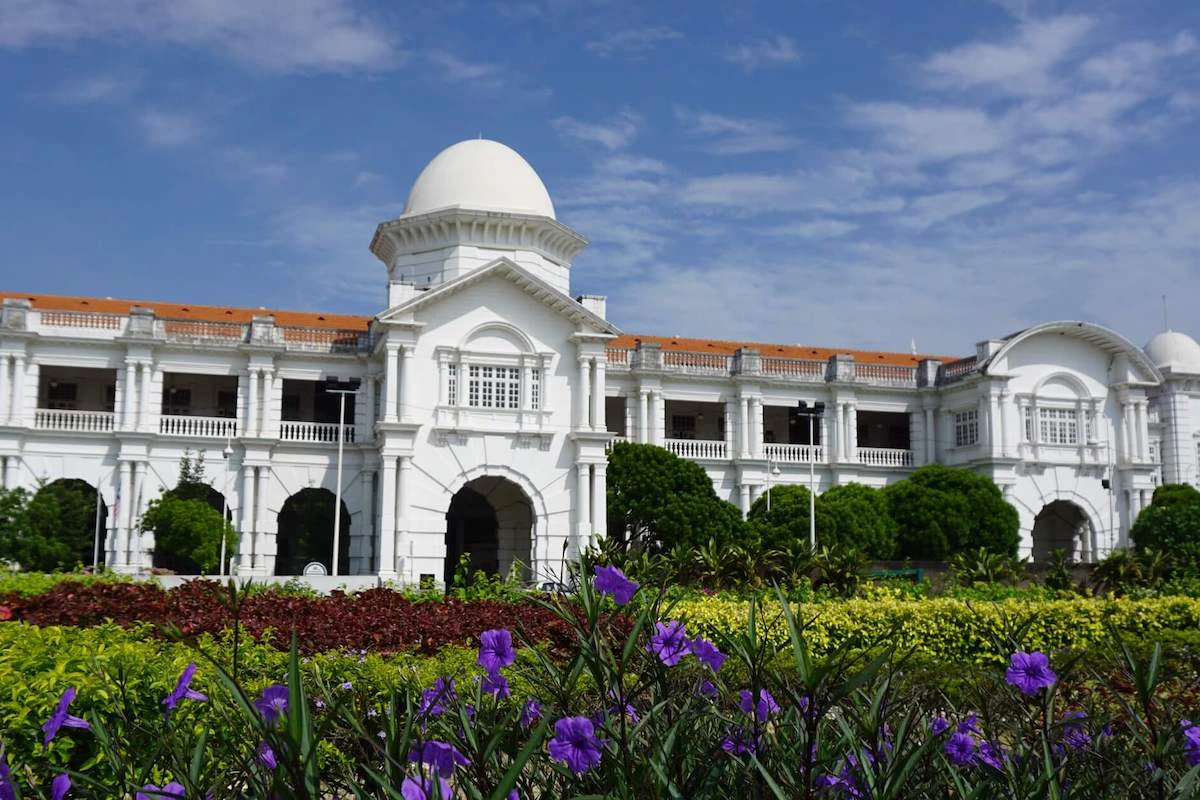 The station was initially built to serve as a hospital but later converted into a railway hub. As of the most prominent attractions in Ipoh, it is known for the beautiful landmark with has a little semblance to the Taj Mahal. It has stood the test of time by providing transportation for the locals and foreigners and having hotel rooms where weary travellers can freshen up after their journey. There is also a bar and restaurant available in Majestic Hotel, the hotel in the station.
20. Time Tunnel Ipoh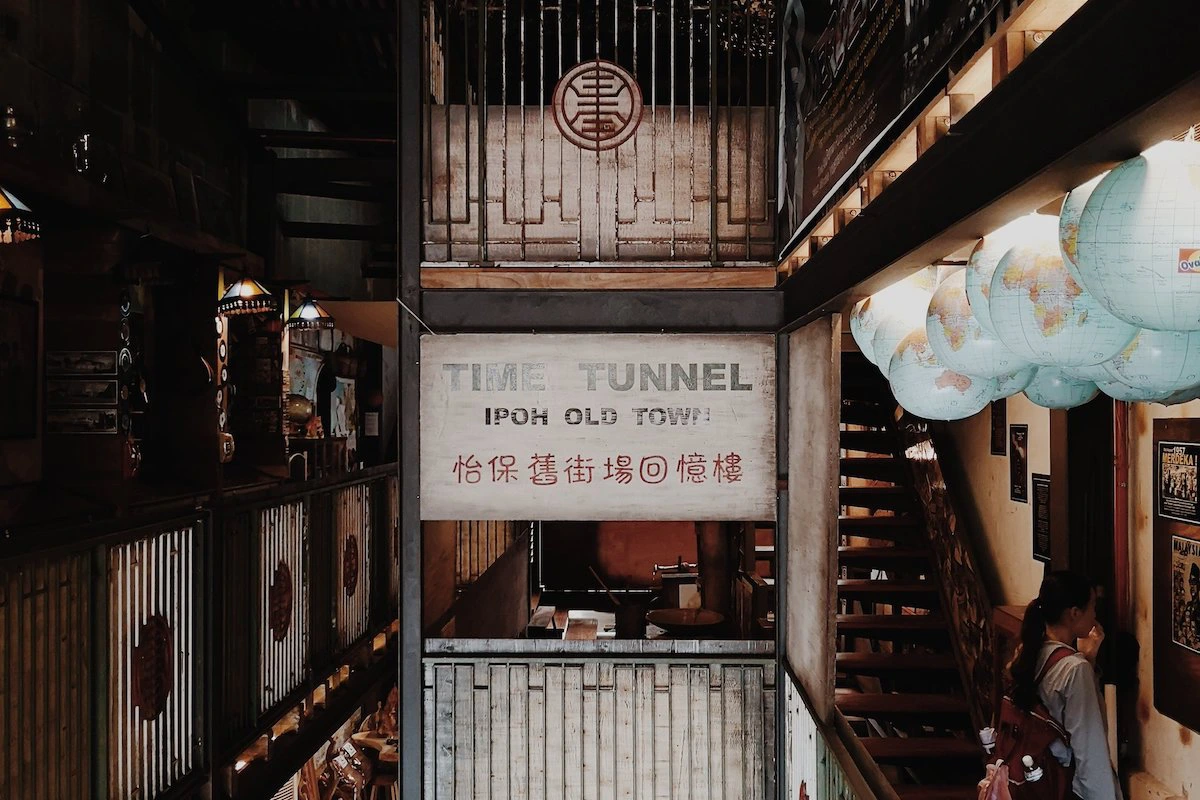 If you've ever wanted to step into an unforgettable world, then Time Tunnel Ipoh is the place for you. Located in a shophouse in Jalan Panglima, this museum allows you to experience Malaysia's past through the recreation of the settings of a house, streets and more from the 1940s. As if this wasn't enough already, another famous Ipoh attraction called KooKee Ipoh Oldtown where you can fill your stomach after visiting the museum can be found on the ground floor of the same building.
With all this city has to offer, it is no wonder that Ipoh is easily one of the most popular cities in Malaysia. The city boasts numerous attractions and activities to keep tourists occupied, including limestone cliffs and a succession of cave temples that are sure to make any trip here a priceless one.