Top 25 Attractions in Guangzhou (2024)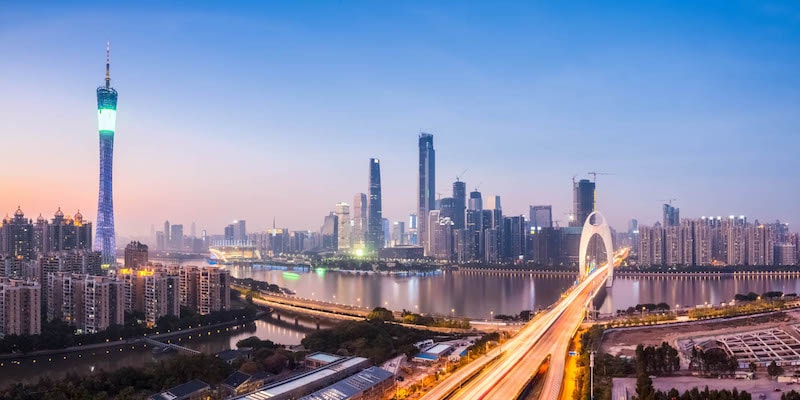 One of China's largest cities in the south, you'll find the sprawling metropolis of Guangzhou to be a captivating place with a vibe all its own. Unlike the other big cities in China, it has an entirely different feeling to it. Perhaps it's the warmer weather or the genuine warmth of the citizens there, but the lively atmosphere mixed in with historic sights and fun activities make it a perfect stop on your China itinerary. Known as the City of Five Rams, here are the best attractions in Guangzhou to see when you're visiting this city.
1. Chimelong Safari Park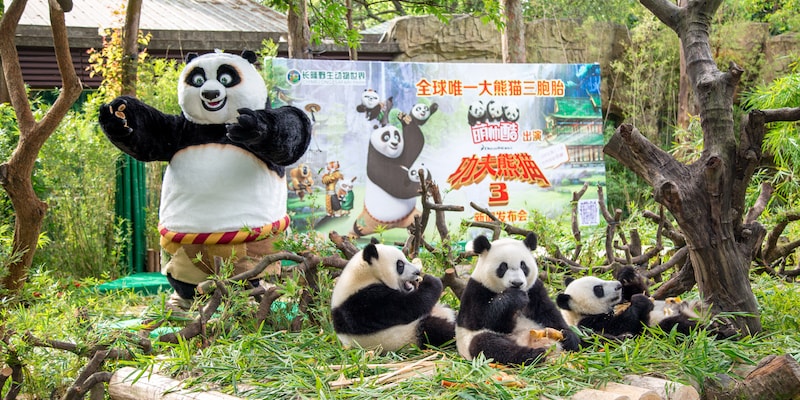 Guangzhou is another city that gets the zoo thing right. This Guangzhou attraction is vast park with tropical foliage throughout, it's easy to spend an entire day walking around the Chimelong Safari Park. It has many ways to explore the wild animal exhibits there. You can choose to do so from the aerial cable car, on foot, or the safari on wheels. Their conservation efforts with Wild Trip are incredibly well-done, making it a wonderful place to visit for families and animal lovers of all ages.
2. Chimelong Tourist Resort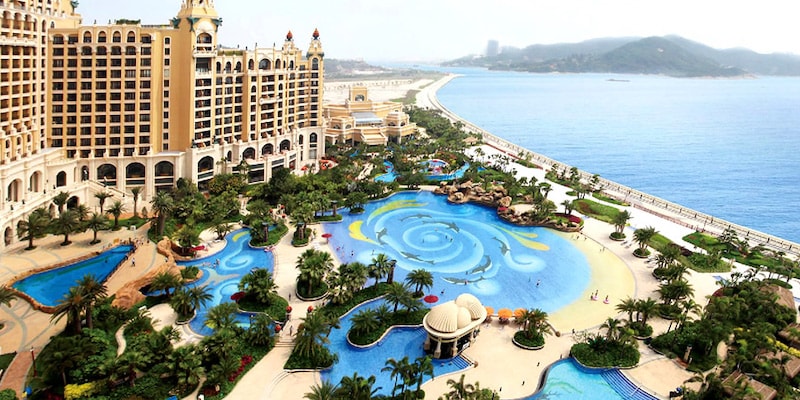 For even more excitement during your time in Guangzhou, you can check out the rest of what the Chimelong Tourist Resort has to offer. There's an amusement park, water park, bird park, and circus. It's Guangzhou's answer to Disney though it was there long before the Disney Resort was crafted in Shanghai. Unlike many things in China, the Chimelong parks are immaculate and well-organised. For these, as well as the zoo, it's recommended you visit during the week to avoid the crowds.
3. Sacred Heart Cathedral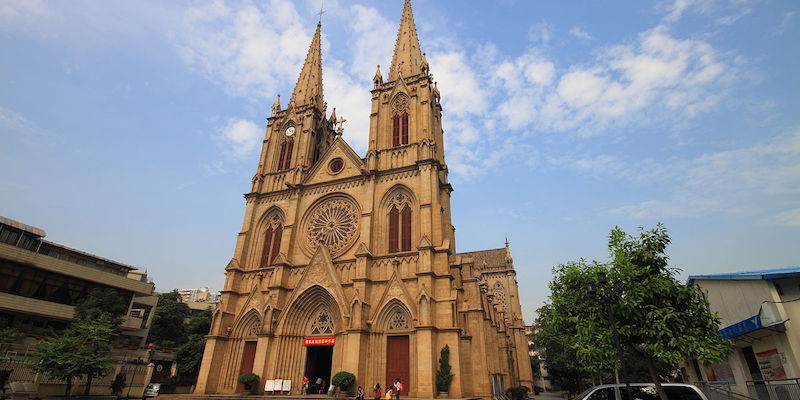 This Catholic cathedral took 25 years to build. Finally completed in 1888, this Guangzhou attraction is among only a handful of cathedrals in the entire world that was constructed entirely out of granite. You can attend mass in the morning or on the weekend. They offer services in English and Korean as well as Cantonese and Mandarin. If you're not keen on attending a service though, you can merely pop by to visit this popular tourist destination.
4. Canton Tower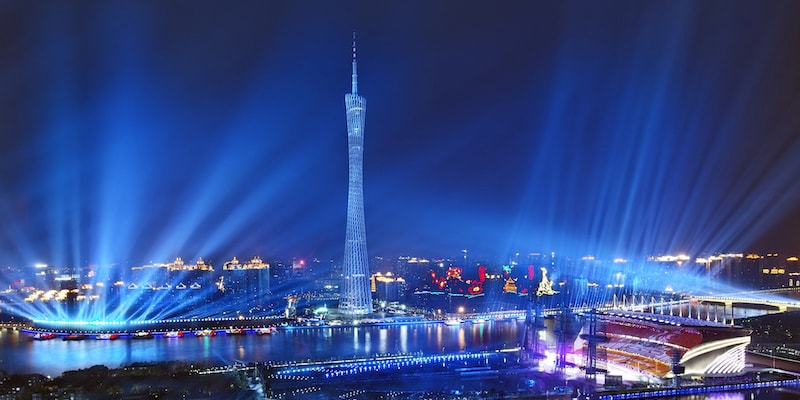 When you see photos of Guangzhou, the Canton Tower is usually among them. Considered the landmark here among other attractions in Guangzhou, it stretches up to nearly 2,000 feet up in the sky. At night, it brilliantly exudes colourful lights. During the day, stop in to visit the observation decks and rides, or keep it tame with a visit to the coffee shops and restaurants.
5. Huacheng Square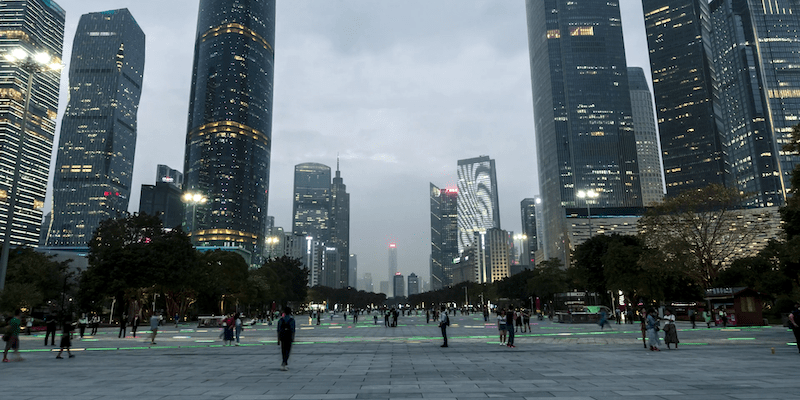 In this square, you'll get a taste of the contemporary lives of residents here. It's a simple place to walk around and relax in, taking in the ordinary life that the people of Guangzhou enjoy. The view is anything but ordinary though. It's filled with ponds and fountains and is a bike- and car-free area to explore. Underneath it, the Mall of the World resides, ready for you to shop and find incredible deals.
Surrounding it, you'll find the Guangdong Museum, International Finance Center, and Canton Tower on the other side of the river. Again, this is one of the best places to visit in Guangzhou during the night too because the colourful lights are truly spectacular.
6. Redtory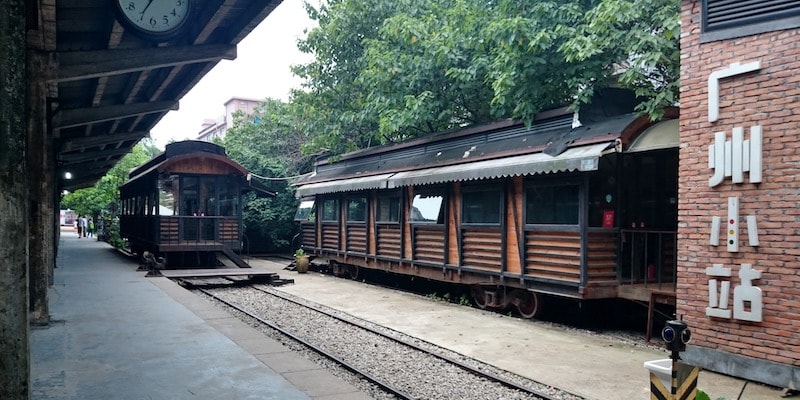 It once served as a place for industrial factories. Now Redtory has new life breathed into it in the form of art. You'll find many fantastic art galleries and art spaces to poke in this Guangzhou attraction. There are also many hip offices, trendy stores, and artsy coffee shops. It's a wonderful place to surround yourself with creativity and see a different face of China in modern times. It's a great place to take a break from sightseeing while still sightseeing, plus you'll likely find many cool and creative things to take back home with you.
7. Shamian Island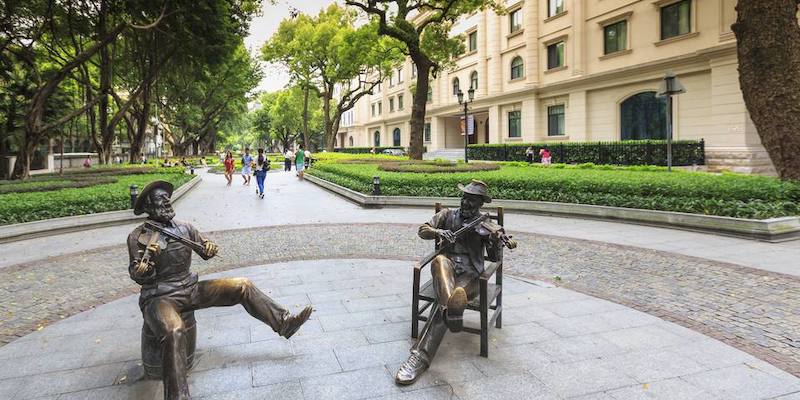 Another way to see a completely different perspective on China in this city is to visit Shamian Island. It once served as a significant foreign trade port in the times starting from the Song Dynasty to the Qing Dynasty. It's very historic with loads of buildings and churches to explore. With the European styling, it is like wandering into a small town in Europe. It's separated from the mainland only by a small canal and is easy to access, providing a beautiful way to spend an afternoon walking around and seeing the sights.
8. Baomo Garden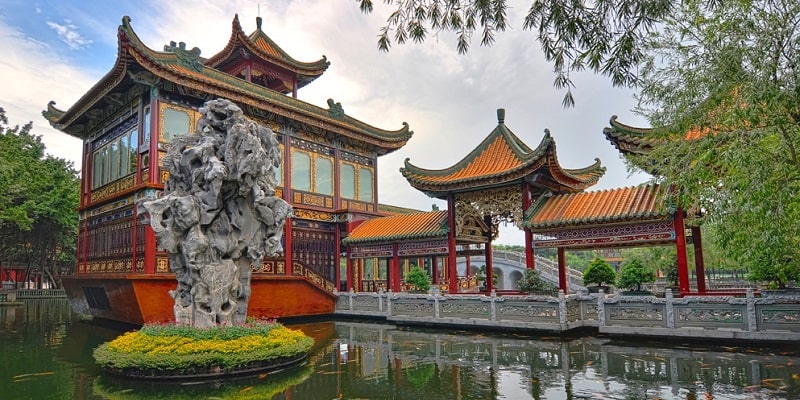 While it's on the outskirts of the city centre, Baomo Garden (one of the attractions in Guangzhou) is a beautiful assembly of Southern Chinese architecture and gardening. If you've had the pleasure to visit cities in the northern regions of China, you'll spot the differences between them. This particular garden was created at the end of the Qing Dynasty. It was destroyed in the 1950s but was then rebuilt and restored to its gorgeous original condition.
9. Guangdong Museum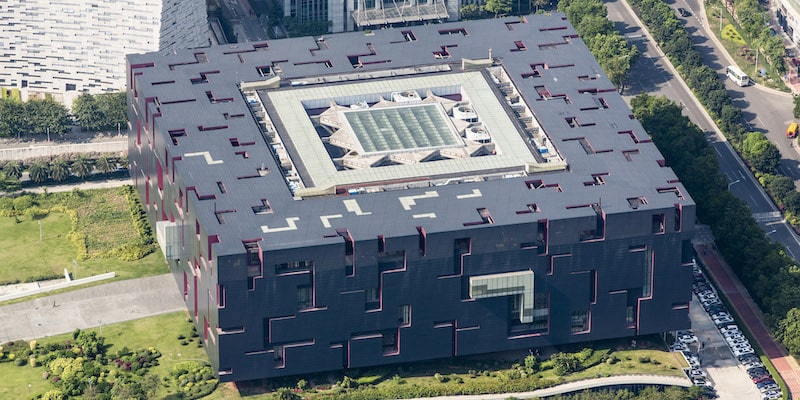 When you're at Huacheng Square, a nice place to visit in Guangzhou afterwards is the Guangdong Museum. It's a relatively new addition, at least the new building is, which was made a focal point in the city centre in 2004. Here, you can explore exhibits with pottery, ceramics, calligraphy, paintings, fossils, and much more for permanent exhibitions while plenty of temporary exhibitions are also showcased to add even more to discover.
10. Yuyin Garden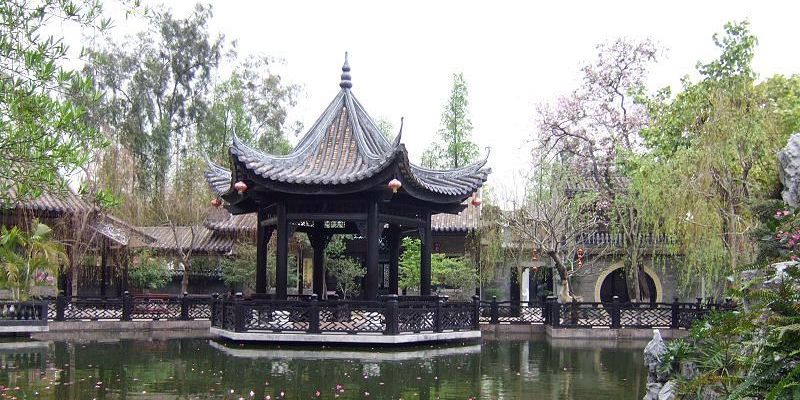 This stunning garden was once private, built back in 1864. Because it was so incredibly beautiful, this Guangzhou attraction became the object of desire for many tourists. Walking through this garden is a treat for the senses with bridges taking you over a calming pool, pavilions, rocky hills, and blooming flowers. The scenery is breathtaking, something you'll undoubtedly want photos of, but it will also bring you a sense of calm and peace in the middle of this big and bustling city.
11. Chen Clan Academy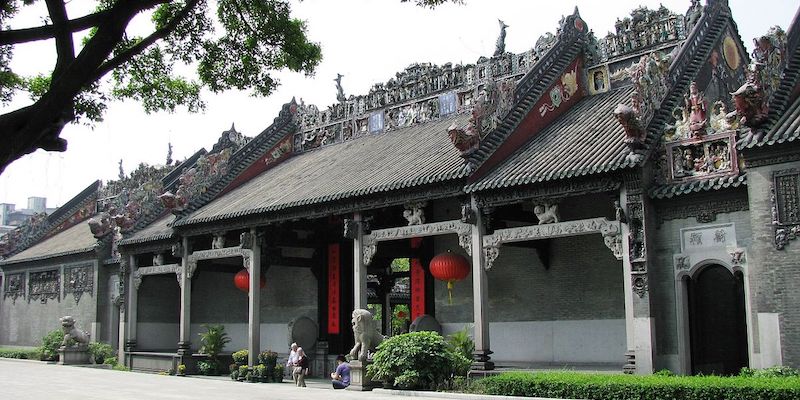 When it was built in 1894, the Chen Clan Academy's purpose was to serve as a study hall for the boys to prepare for the intensive imperial exams. These days though, it is home to the Guangdong Folk Arts Museum. There are 19 buildings in total here with a variety of exhibitions that include artwork and crafts plus cultural relics. The peaceful scene here is excellent for an hour or so of your time.
12. Sun Yat-Sen Memorial Hall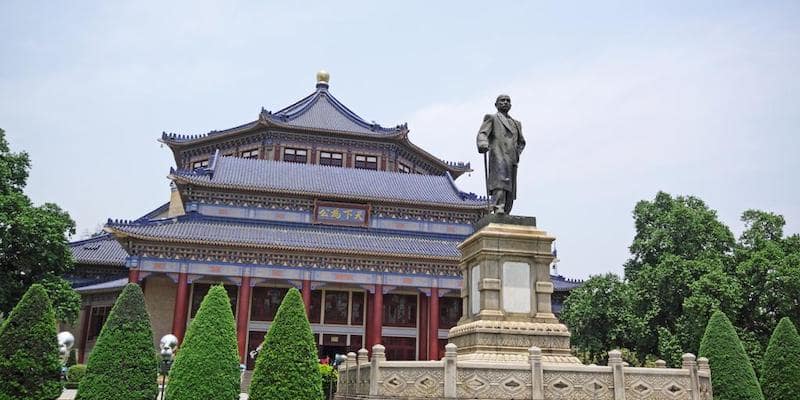 This memorial hall features unique octagonal architecture, worth seeing alone. But the historical significance this Guangzhou attraction poses will make you want to linger for more than a gander. This was after all the Presidential Palace at one time. It was destroyed though when an attack was made on Sun Yat-Sen. Then in 1931, a memorial hall was erected to commemorate him. Again, it was destroyed but repaired several times more. The last restoration took place in 1998. You'll get treated to the entire intriguing history of it when you visit.
13. Baiyun Mountain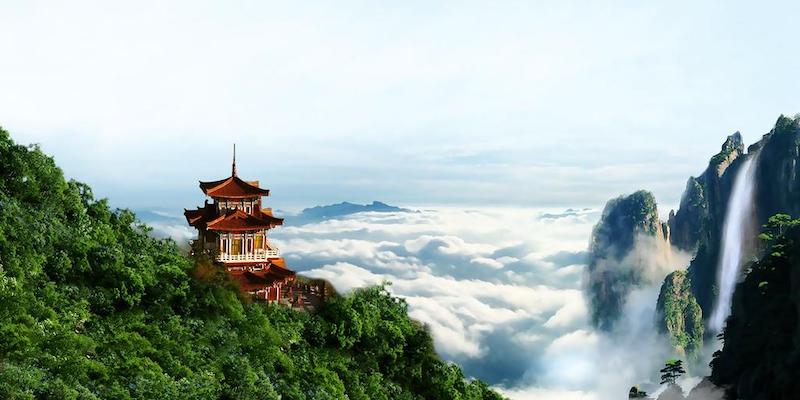 Chinese people are big on mountains, something you will quickly learn once you visit any city there with mountains. Guangzhou is no exception. Baiyun Mountain, also called Cloud Mountain, is a scenic area featuring 30 peaks. The highest one is just over 1,200 feet about sea level. The peaceful area and fresh air make it a delightful place to see. There's a cable car that can take you up to Peak Park, or you can get some exercise walking up the stairs. Not a fan of crowds? Try it out during the week and not on holidays to have fewer people to share it with.
14. Pearl River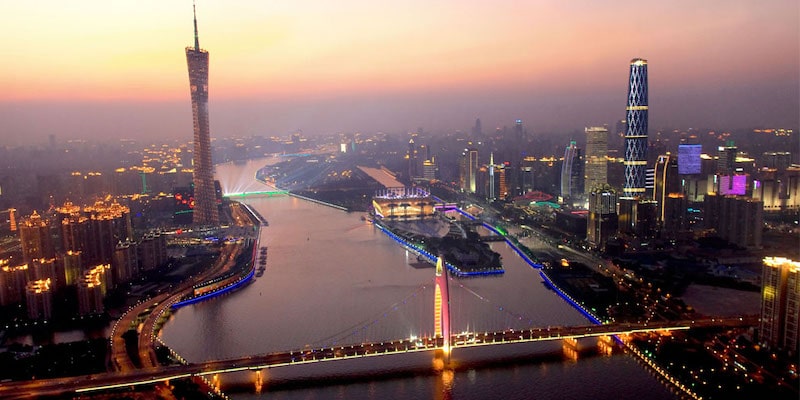 The river flowing through the centre of this city doesn't look that spectacular during the day. But the Pearl River is a thing of beauty at night. One of the best ways to enjoy it is by getting on a riverboat cruise. You'll see the city landscape and bright lights which truly capture the unique and vibrant vibe of Guangzhou. It's something you shouldn't miss out on!
15. Yuexiu Park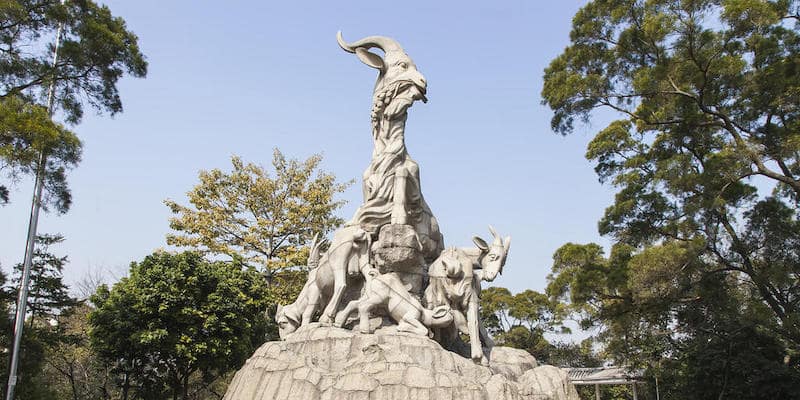 This is the park that features the Five Rams Sculpture, a symbol of Guangzhou from where the nickname comes from. The Guangzhou Museum is also located inside this park in the Zhenhai Tower. This is another piece of architecture in the city that was destroyed and rebuilt many times since it's original 1380 construction.
16. Mausoleum of the Nanyue King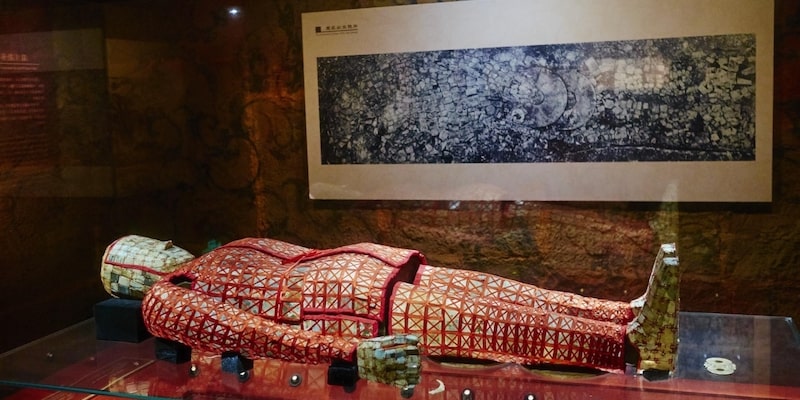 Enter the tomb, if you dare! This enthralling attraction in Guangzhou lets you walk into the actual tomb while getting a chance to discover all the artefacts there. It's over 2,000 years old but wasn't discovered until 1983. Once it was, they opened a museum to share this incredible discovery with everyone.
17. Temple of the Six Banyan Trees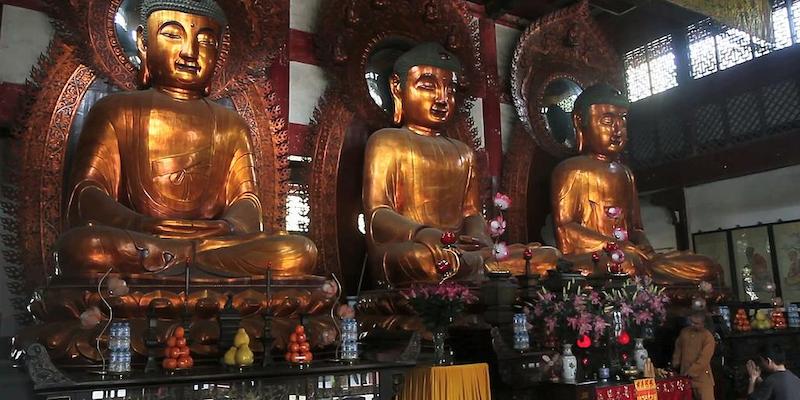 It was initially built for Emperor Wu in 537. But then this Guangzhou attraction was rebuilt and renamed based on a poem by famed poet Su Shi. The most incredible parts of the temple compound are the Golden Buddha Hall and the 9-story Flower Pagoda with a brilliantly bright exterior that is worth seeing.
18. Whampoa Military Academy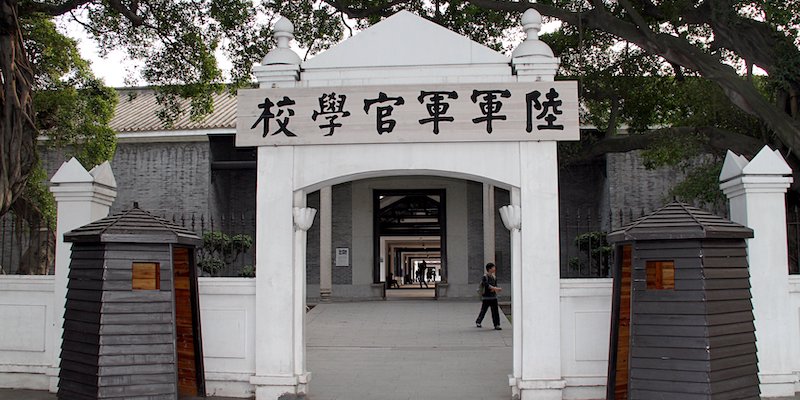 It was once a military school that opened in 1924. Helmed by the ruling party at that time, Kuomintang, it was converted in 1950 after the Communists took over. From then on, it's been a museum that showcases historical exhibits even in English so you can glean more about this amazing time in China's history.
19. Guangxiao Temple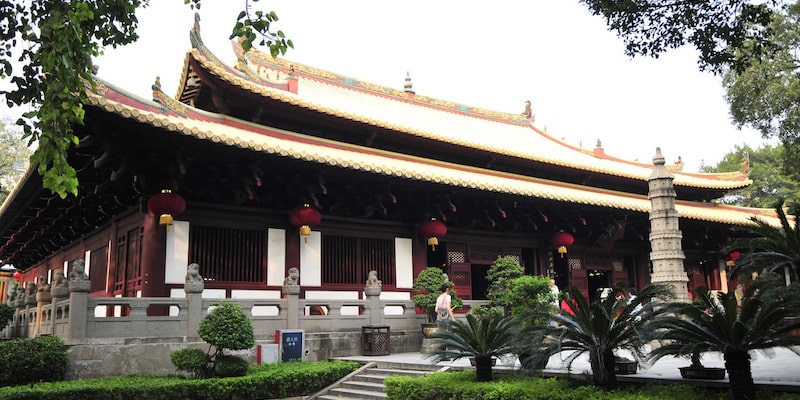 Once upon a time, this attraction in Guangzhou was a residence for a king. Then, over the course of thousands of years, it was turned into a temple. This was during the era of the Three Kingdoms. Over the years leading right up to present-day, it was destroyed numerous times. It was rebuilt just the same though it has been scaled down from its former size. Despite all this, the Guangxiao Temple remains one of the most important of the Buddhist temples in the city and worthy of a visit.
20. Qing Ping Chinese Medicine Market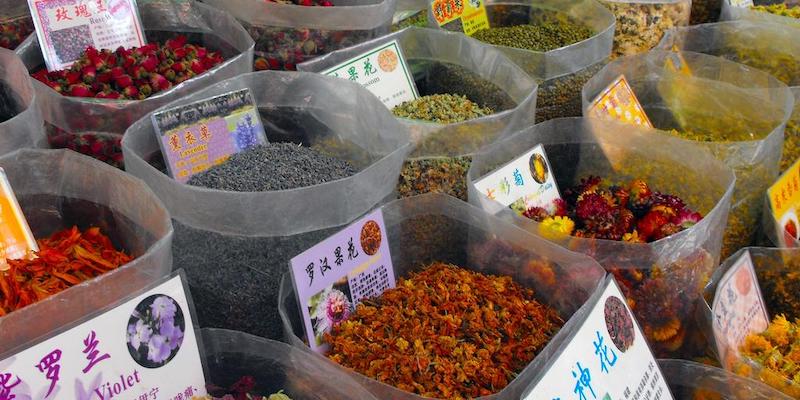 Looking for something exotic while you're in Guangzhou? Qing Ping Chinese Medicine Market is a must-see. You can buy traditional Chinese herbs for your health, or simply explore it. You can find local guides that speak English so you can definitely gain more knowledge about the herbs here. You'll also be able to learn how to use the herbs you find here safely for your better overall health and longevity.
21. South China Botanical Garden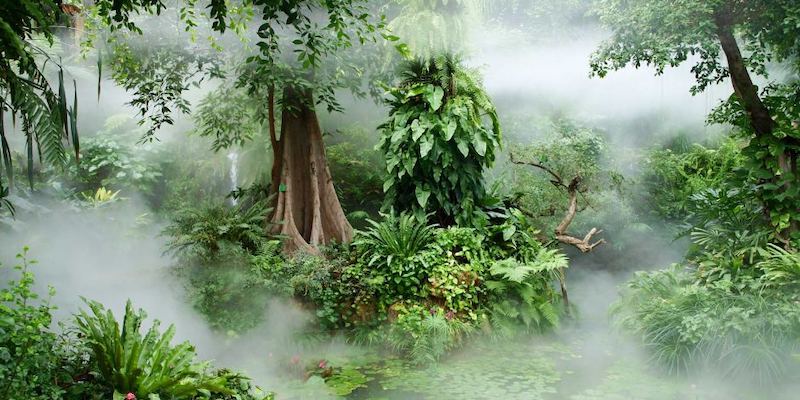 Just to the north of the city, you will find one of the most stunning attractions in Guangzhou a perfect stop. It was created in 1929 and boasts the title of being the oldest as well as biggest South Asian tropical garden in all of China. There's a conservatory plus the Long Dong Magic Forest there features a recreation of a Neolithic village which was named one of the city's most scenic spots.
It features two peninsulas a man-made lake. Each peninsula is themed, making it more enchanting. The Palm Garden stays green year-round, and the Relic Garden showcases 4 seasons for a truly epic place to visit in Guangzhou.
22. Lotus Hill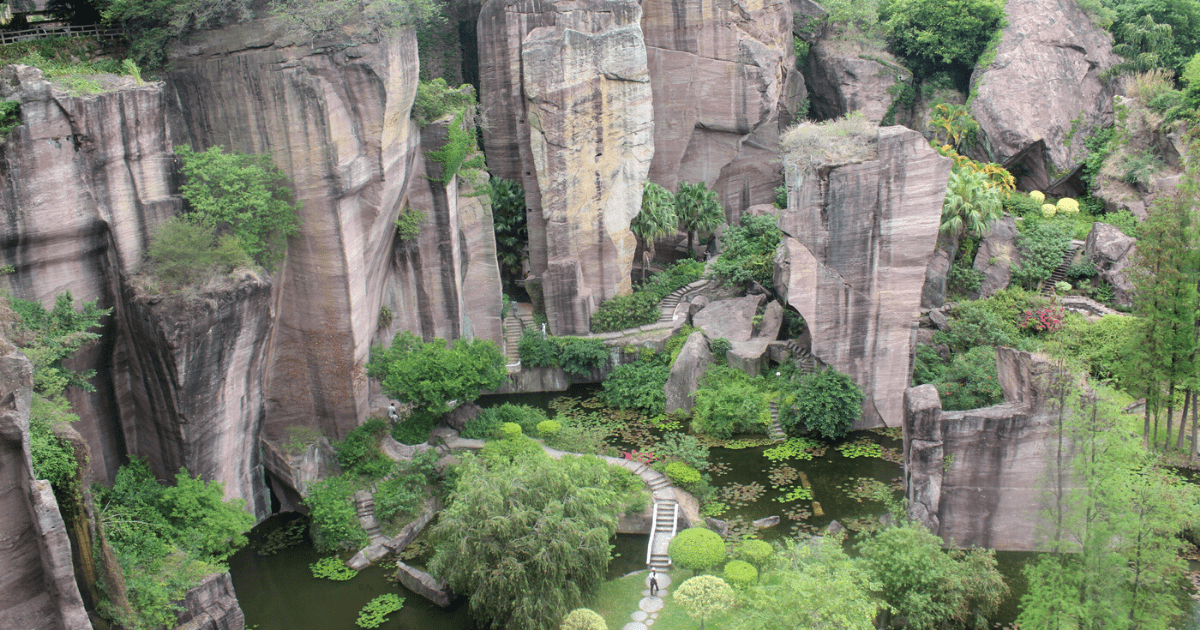 Lotus Hill is a scenic attraction that boasts a picturesque landscape, surrounded by a lake. Located on the outskirt of town, this hill is situated in the creek of Pearl River. A plethora of ancient and magical sites await you after two hours by car; where you will be able to see the Lotus Tower, a golden Kwan Yin Fairy statue and various ancient stone formations. Lotus Hill is most beautiful during spring when the peach blossoms flower and during summer for the Lotus Festival. Almost 100 lotus flowers bloom and handpicked here for the festival.
23. Flower City Square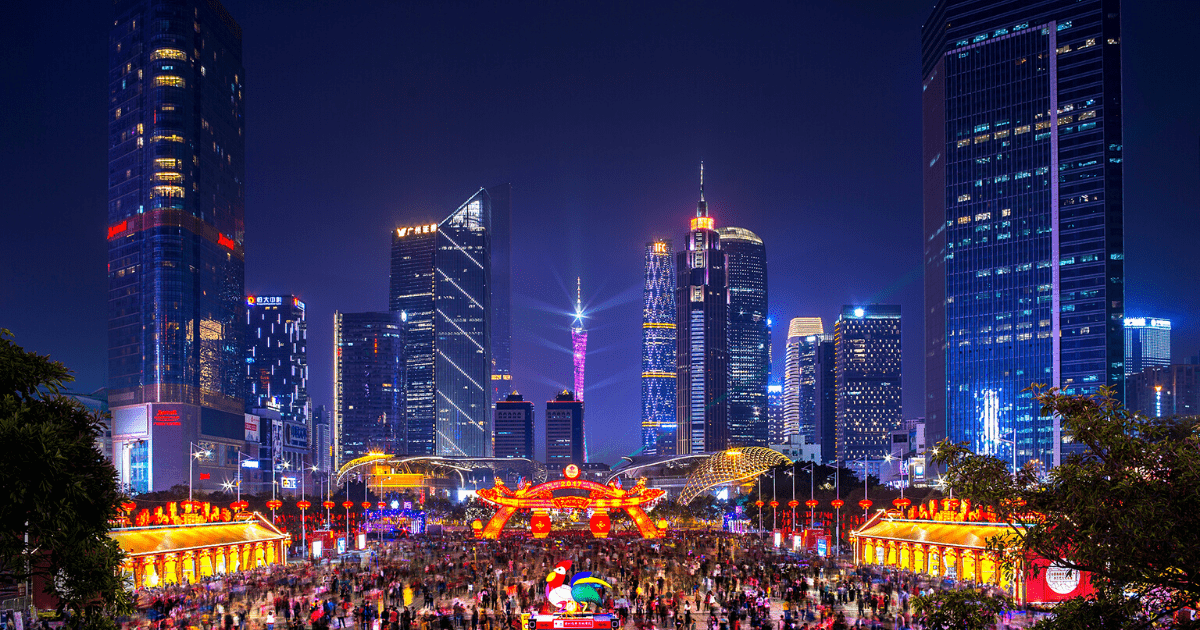 Flower City Square is a 56 square kilometre that is situated in Zhujiang New Town. This is the largest square in the city that is home to many entertainment and shopping areas. Just beneath the square, you will find Mall of the World shopping centre with underground passages leading to other malls. Ideal for people watching, this is also the spot for Guangzhou's International Light Festival that takes place every year in November.
24. Shang Xia Jiu Pedestrian Street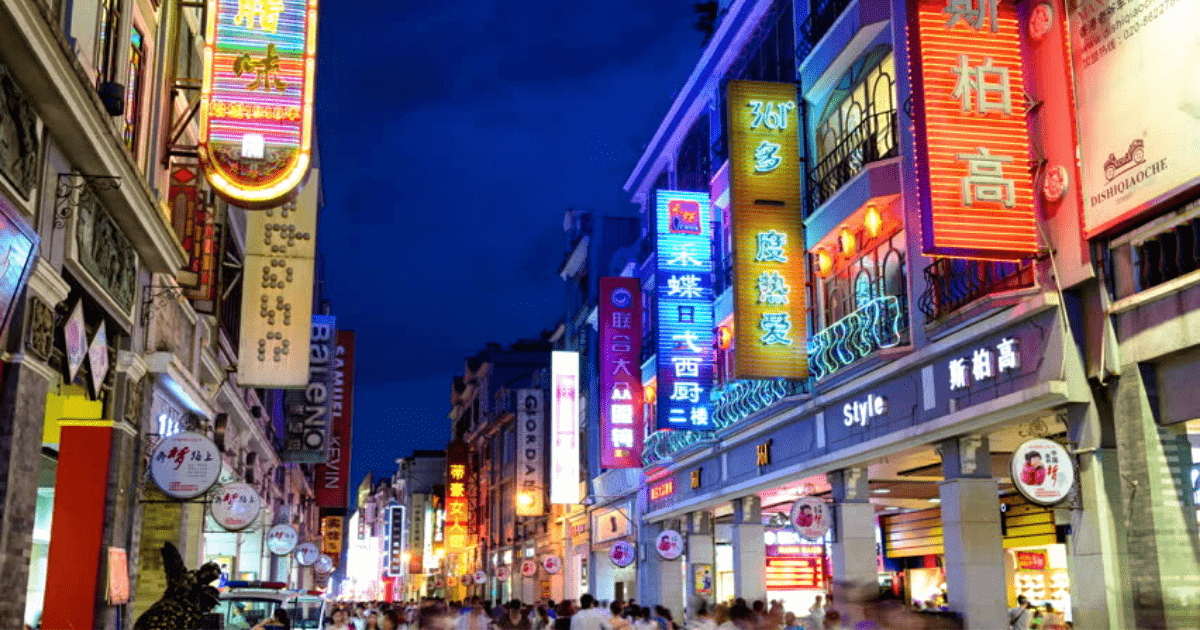 Shang Xia Jiu Pedestrian Street is a vibrant area that is located in the central area of Liwan district. One of the must-visit attraction for shopaholics, this street is lined with plenty of retail shops, shopping malls and renowned restaurants. During your stroll here, you will also get to appreciate the building's architecture that is inspired by ancient East and West culture. This street can get lively on the weekends, so we would suggest going early for a good headstart.
25. Dafo Temple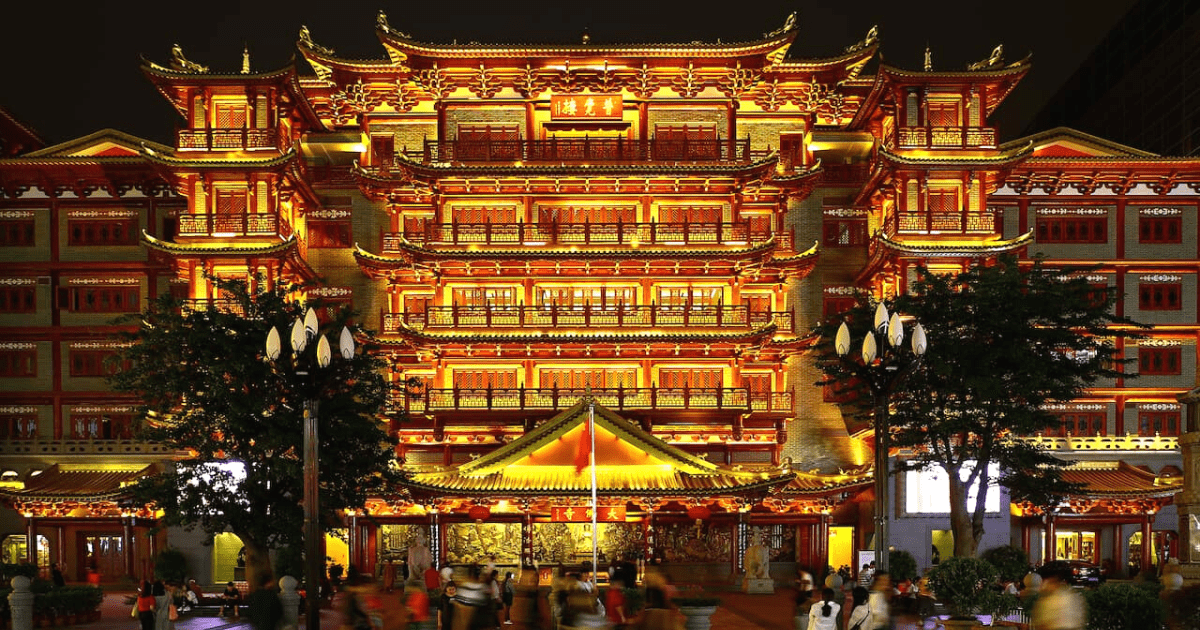 With more than a thousand years history, Dafo Temple is one of the top must-visit attraction in Guangzhou. This Buddhist temple was commissioned by Emperor Liu Yan from the Southern Han dynasty and is one of the five grand temples in Guangzhou. Devotees come far and wide to offer prayers to Buddha in the magnificent Mahavira Hall. There are three golden Buddha statues enshrined in this hall with each of them built at 6 metres high.
Don't forget while you're in Guangzhou to taste the regional cuisine! The city is very Cantonese, and because of this, you will find that it offers dim sum at just about every turn. In addition to that, tea is a huge part of the culture. Of course, it's a part of all Chinese culture, but the citizens of Guangzhou take it very seriously.
Another thing you shouldn't miss is the whole roasted pig. Called "kao ru zhu," it is a divine way to indulge in a pork dish. You can find many restaurants in the city that feature it. Like all Chinese cities, Guangzhou has its own take on cuisine, something it does exceptionally well. Between the attractions in Guangzhou and food, you'll have much to remember from your trip to Guangzhou.