Top 25 Attractions in Shanghai (2024)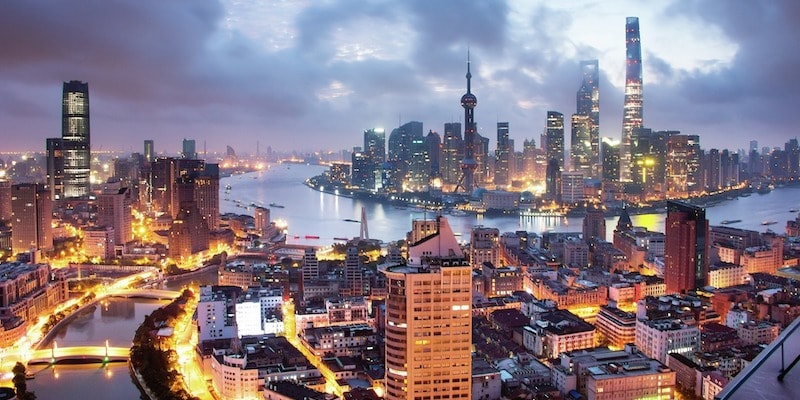 As one of the most sophisticated cities in Asia, Shanghai aptly blends refined contemporary touches with ancient relics from history right by their side. It's urbane, loveable, and filled with the elements that make China splendid while thrusting it into the modern world, which is why visitors seem to adore it.
Getting around Shanghai is very easy to do too. It's a welcoming city, one that makes exploring it quite simple. Even still, with so much to do and see, it might be tough to take it all in on just one visit. Here are some of the best attractions in Shanghai to see while you're there to knock off your list.
1. Nanjing Lu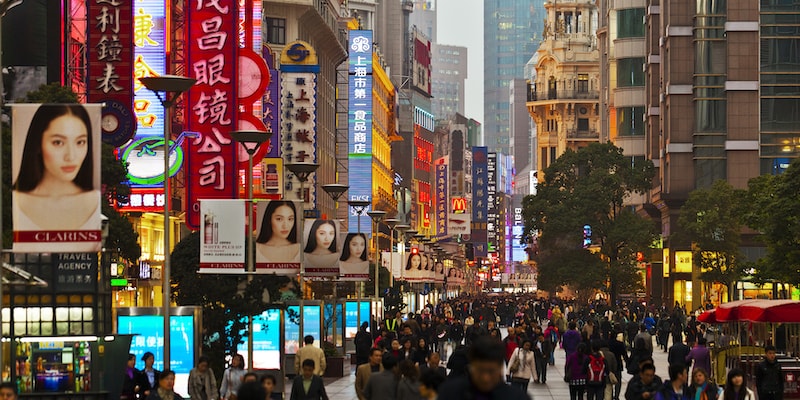 Shopping in Shanghai is a must, and there's no better place for it than Nanjing Lu ("lu" means "road" in Mandarin). This east-west shopping street resembled New York's Times Square on the east while on the west, you'll find plenty of luxury shopping venues, ritzy hotels, and office buildings. Whether you buy anything or not, an afternoon spent wandering around here is a splendid way to enjoy your day.
2. The Bund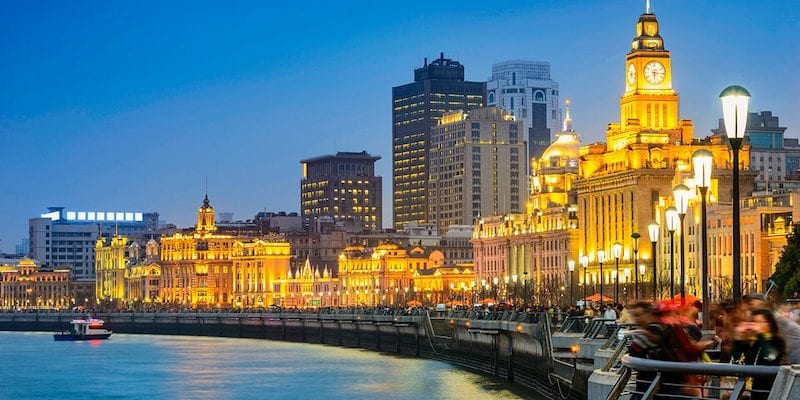 If you've ever spent time gazing at photos of Shanghai before, you'll recognise the Bund instantly. Called "Waitan" in Chinese, it's where that famed skyline rises above the Huangpu River. All along the Bund (a famous Shanghai attraction), you'll find upscale dining in various styles of cuisine and places where the wealthy love to play.
Opulent hotels assure a 5-star experience here if you've got the budget for it, but if not, you can still wander into the lobbies and dream of the good life. Walking along the river, you'll be treated to the larger-than-life buildings stretching into the clouds and see boats wafting by, a beautiful backdrop indeed, whether day or night.
3. Huangpu River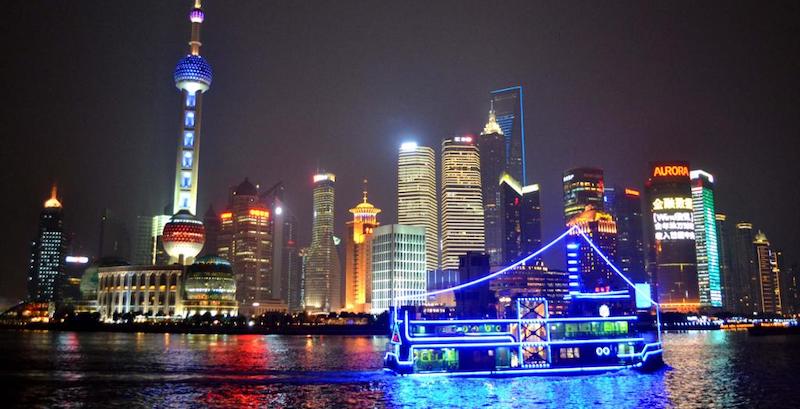 While on the Bund, a great thing to partake in is a riverboat cruise to see more of the waterway that divides the city in two. The older side on the west, also known as the city centre, while the east side, Pudong, is the newer side. From the perspective of a boat, you'll get to see more of it.
4. Oriental Pearl Tower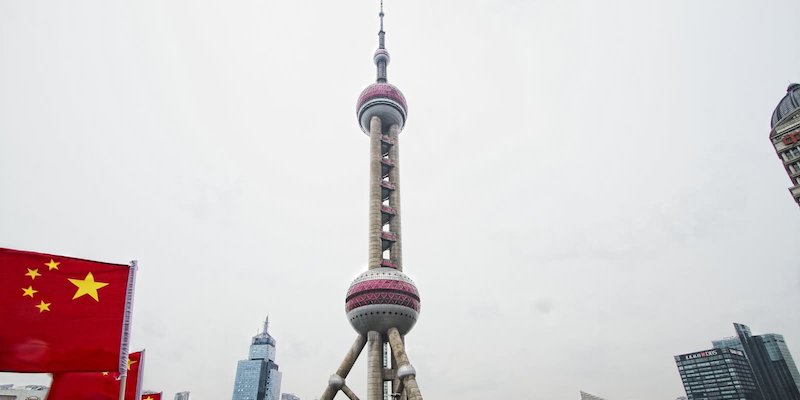 In 1994, this iconic Shanghai attraction was built in Pudong and has been a legendary Shanghai landmark ever since. The three spheres, or pearls, of the tower, are unforgettable. Get up to the observation deck and see Shanghai from above, a bedazzling sight. The base features a museum that details the history of Shanghai from before 1949, while at the top, you can get a cocktail to truly feel on top of the world.
5. Pudong Skyscrapers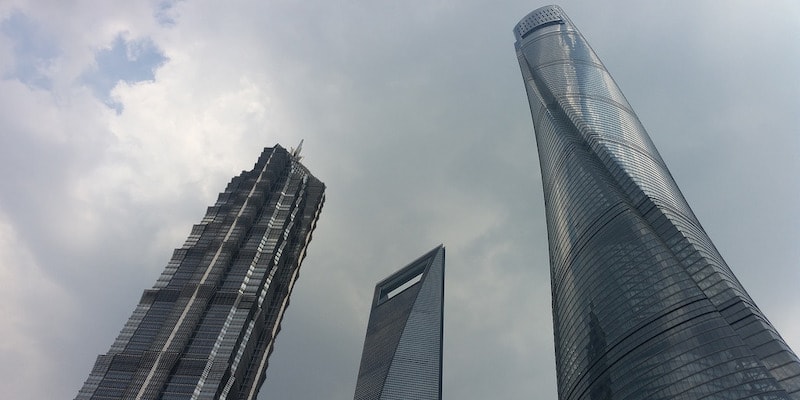 While you're by the Oriental Pearl Tower, don't miss the rest of the fascinating skyscrapers that have made their mark on Shanghai's skyline. The Grand Hyatt presents a sublime view and a bespoke bar while the Jin Mao Tower gives a nod to the pagoda-style of Buddhist temples.
6. Shanghai Ocean Aquarium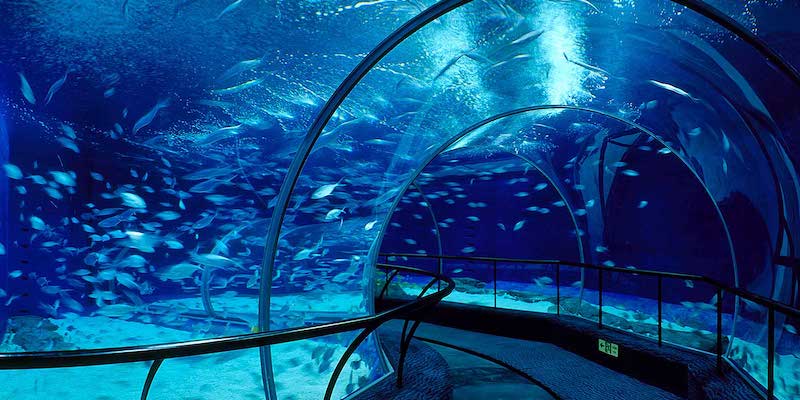 If you are looking for something closer to nature after exploring the skyscrapers, you should definitely check out the Shanghai Ocean Aquarium. Located adjacent to the Oriental Pearl Tower and Jin Mao Tower, this Shanghai attraction is one of the largest aquariums in the world. Not only that, you can explore more than 300 types and 15,000 of sea creatures by walking in the world's longest submarine viewing tunnel at 155 metres long.
As if that is not enough, after finish exploring the aquarium, you can choose to have a meal in the restaurant that can sit up to 300 people in these pyramid-shaped buildings.
7. Yu Garden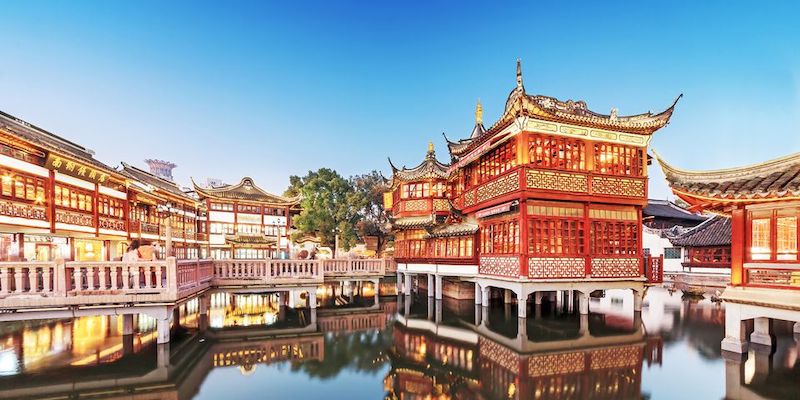 Shanghai's modern marvels are undoubtedly compelling, but getting to see the roots of old Shanghai shouldn't be missed either. In 1559, Zhang Nanyang built Yu Garden for the Ming Dynasty. It was the place where an uprising against the French colonists was planned in the 1800s, but now, it remains a peaceful oasis in the midst of the city, featuring ponds brimming with fish, rock gardens, and bamboo.
8. Jade Buddha Temple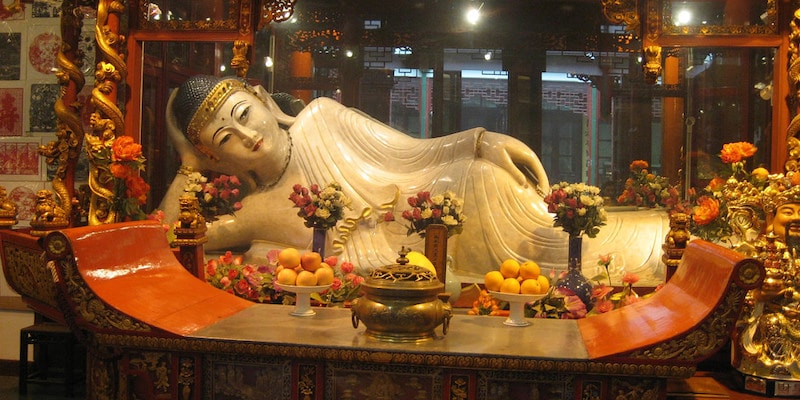 Chinese history goes back over 3,000 years. With numerous temples around the country, it's shocking to find that the Jade Buddha Temple isn't even 100 years old. It did, however, survive the Cultural Revolution thanks to clever monks that plastered pictures of Mao Zedong on the outside which the Red Guards couldn't destroy. While you'll find the history lesson here riveting, the big draw is the gigantic white jade and gem-covered Buddha, originally from Burma. It's over 6 feet tall!
9. Shanghai Zoo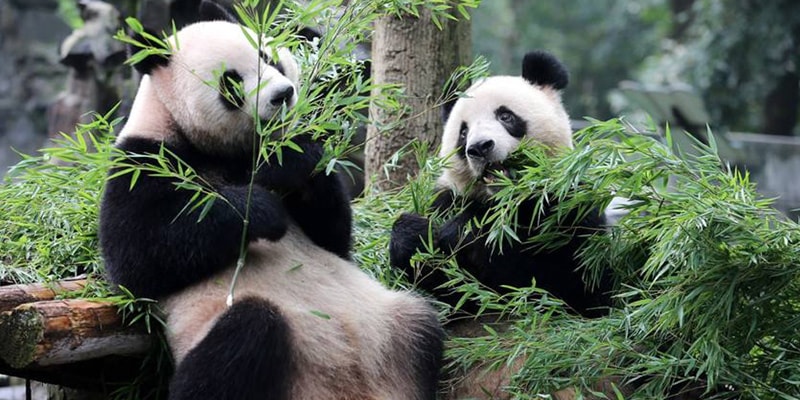 In China, things are a bit behind the times when it comes to animal rights. But in Shanghai, you'll be pleased to know that the zoo is very clean, well-kept, and the animals aren't trapped in tiny cages. The grounds are lovely for walking around and it's a great place to go whether you have kids or not. Oh, and there's pandas! It's more crowded on the weekends and during Chinese national holidays so try to pop by during the week.
10. Longhua Temple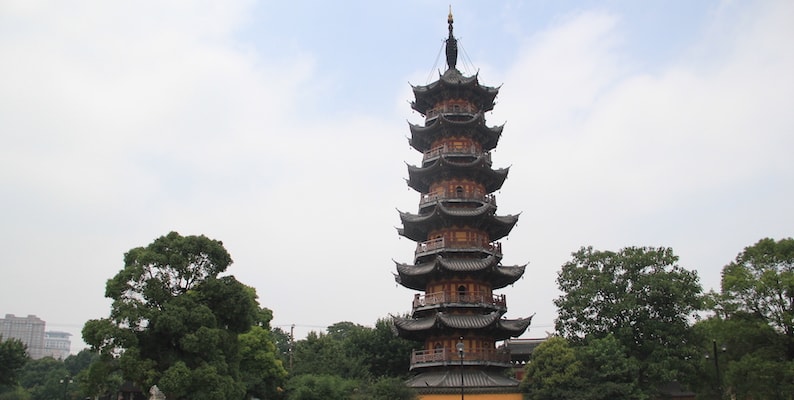 In 1987, the Empire of the Sun shed some light on the rich culture of China. If you've seen it, then you'll remember seeing Longhua Temple. It is one of the main attractions in Shanghai and the largest temple. On New Year's Eve, they strike the huge copper bell there. With 5 halls and 2 towers to explore, there's much to see.
11. Soong Qing-Ling's Memorial Residence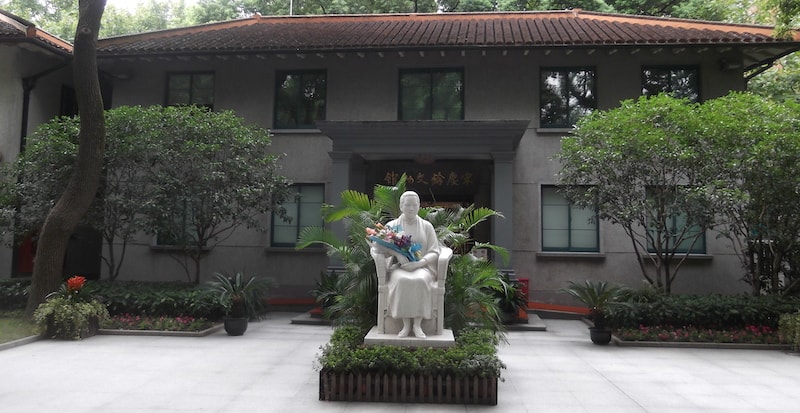 Once upon a time, a woman named Soong Qing-Ling married Sun Yat-Sen, a nationalist leader who was nearly 30 years her senior. About a decade later, he died and she was then known for switching to communism. She kept this home as her residence from 1948 to 1963, and now, there's a small museum next to it where you can get an in-depth glance into just one of China's many fascinating stories that helped to weave its tapestry of history.
12. People's Square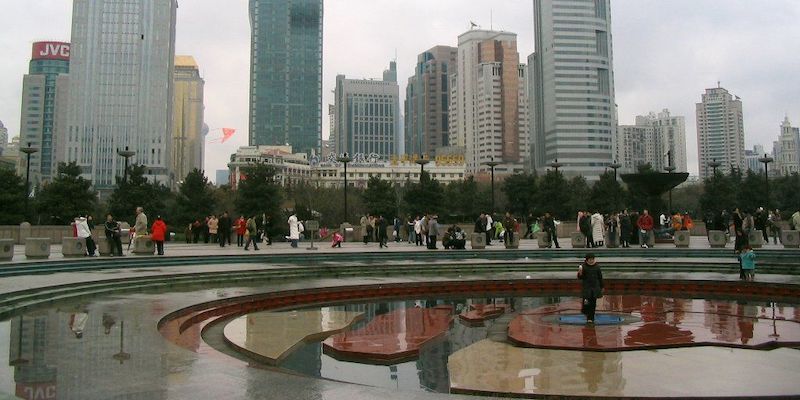 If you like to be at the center of things, People's Square is one of the best places to visit in Shanghai. It's THE hangout spot in Shanghai for everyone. Nothing is more interesting than seeing how other cultures live their daily lives, and here is where you'll get the most authentic slice of Shanghai life.
Old people sit here and share tea while other groups of varying ages practice tai chi or dance in groups. There's also a small amusement park that kids will love. It's another one that gets busy on weekends so be prepared for crowds.
13. People's Park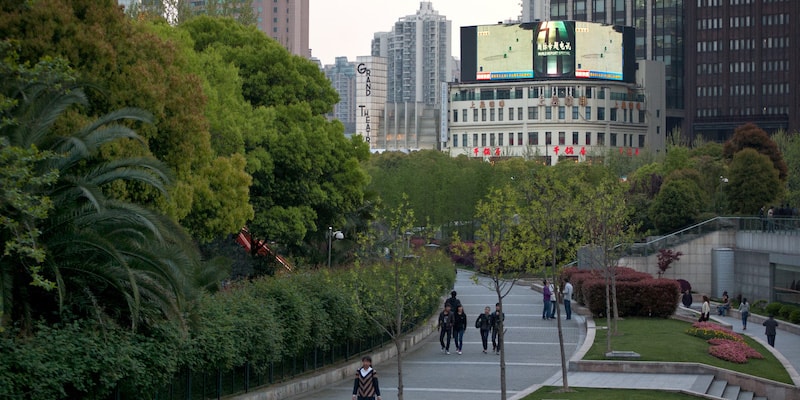 Just next to People's Square, this is the one of the best places to visit in Shanghai on a beautiful day. There are gorgeous flowers and calm ponds, a nice place to break away from the chaotic city life. For visitors though, you really must brave the crowds to see the "marriage market." Parents come in pure desperation to marry off their adult children. They wave flyers around with all their statistics, which you probably won't be able to read, but it's still a sight to behold.
14. Shanghai Museum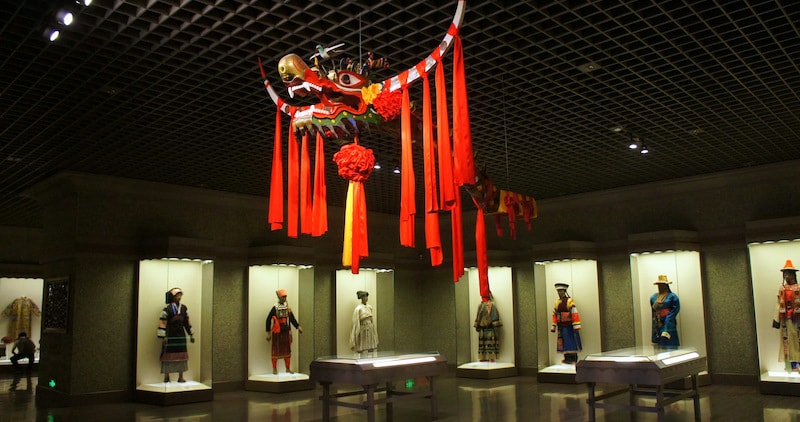 Right there by the People's Square and People's Park, you'll find the Shanghai Museum, another Shanghai attraction. It's hard to miss because it looks exactly like an ancient vessel for cooking. While the outside leaves much to be desired, inside you'll have the pleasure of roaming through display after display of some of China's most resplendent works of art.
Paintings, ceramics, sculptures, calligraphy, and more, even furniture and jewellery from the Ming and Qing dynasties. Don't forget to visit the gallery of dresses if you're a fashion lover!
15. Tianzifang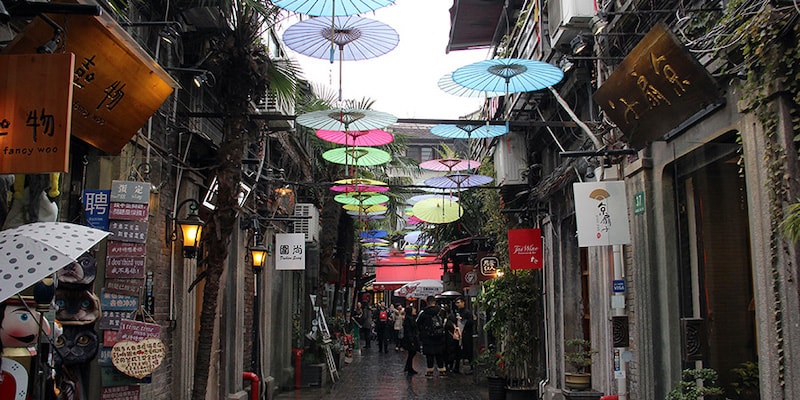 Also known as "Tianzi Fang", this touristy area with arts and handicrafts can be found in the French Concession. Now rife with stunning boutiques, galleries, bars, and restaurants, this area was once home to old buildings with a European flair. Despite this, much of the architecture has been carefully preserved to uphold the distinctive character and charm from the olden days.
This Shanghai attraction is a wonderful place to explore during the night where you can eat some of the best food in the city, find cool live music, check out talented artists, and shop for unique gifts.
16. Fuxing Park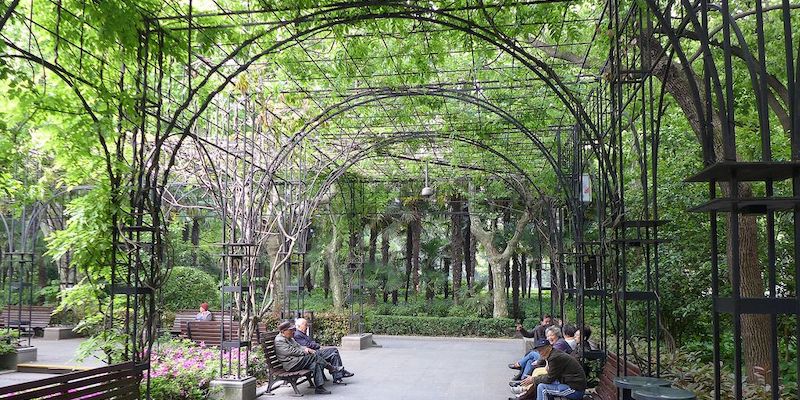 While you're over in the French Concession, stop by Fuxing Park. In 1909 when it was first established, it was the largest park in Shanghai. While it's no longer the largest, it's still one of the best places to visit in Shanghai to have a relaxing walk amidst the fountains and gardens.
In the northern part of the park, there's a statue of Karl Marx and Friedrich Engels which was built in 1985 as a commemoration of the 90th anniversary of Engels' passing. The flowerbeds here, particularly the rose garden, are divine. And children will love the carousel and bumper cars.
17. St. Ignatius Cathedral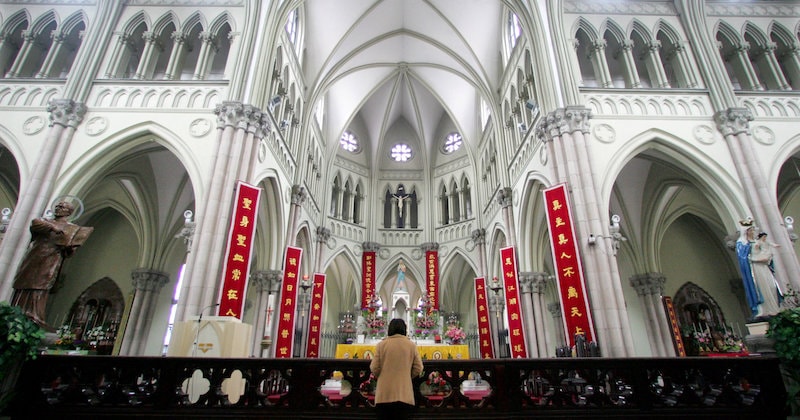 In the most chaotic part of Shanghai, St. Ignatius Cathedral resides. Within, it's a calm and serene place though. It was opened in 1910 and was greatly affected by the Cultural Revolution. The Red Guards destroyed the stained glass window panes and it was converted into a grain storehouse for roughly a decade. In the 1980s, it was restored as it once was. Knowing the history of this Shanghai attraction makes seeing it in person even more intense.
18. China Art Museum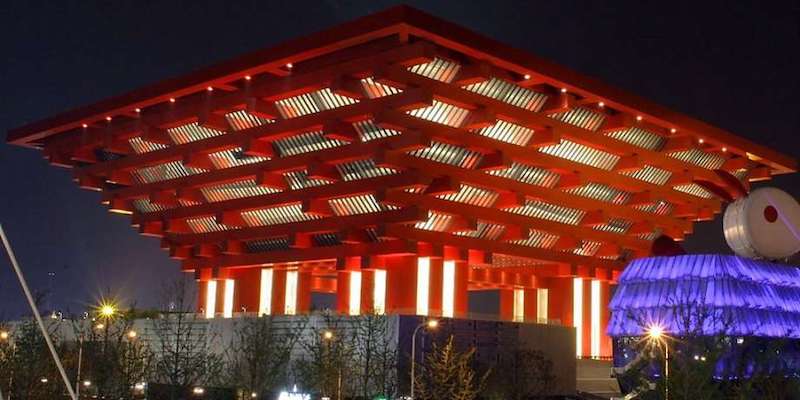 Art lovers shouldn't miss stopping by this museum, also called the China Art Palace, or by the original name it once held: the Shanghai Art Museum. Whatever you want to call it, you'll find modern Chinese art in this place that once served as the former China Pavilion of Expo 2010. With a stunning red entry, it leads the way for what's to come with exhibitions of works from China's most renowned painters and sculptors like He Tianjian, Guan Liang, Wu Guanzhong, and Hua Tianyou.
19. City God Temple of Shanghai
This folk temple in the old part of Shanghai is steep in history, a site devoted to three Chinese figures that were revered as city gods for this town long ago. It was popular during the Qing Dynasty, but during the Cultural Revolution, it was closed down and used as a jewellery shop. In 1951, it was turned over to the Shanghai Taoist Association and converted to a Taoist centre. Then in 1994, it was restored to be used again as a temple, this time with resident Taoist priests.
20. Shanghai Disney Resort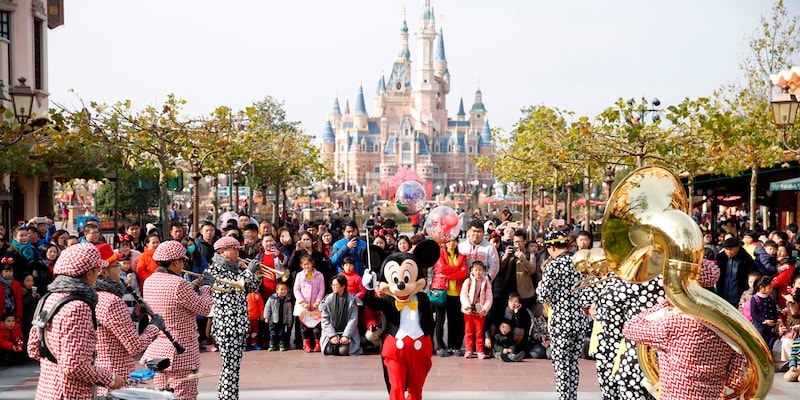 Recently opened in 2016, Shanghai Disney Resort is the second Disney park to open in China since the opening of the property in Hong Kong. It features two themed hotels and the warm-and-cosy Disney feel you know, but seeing it with a bit of an Asian flair is truly worth it. If you love Disney, you shouldn't miss the chance to visit this property to explore Mickey Avenue full of character meet-and-greets and Main Street-style shops and souvenirs.
Great rides and attractions await, like the Pirates of the Caribbean, the Seven Dwarfs Mine Train, Dumbo's carousel, and an Alice in Wonderland maze. With lovely touches of Chinese gardens throughout, it's a divine way to do Disney.
21. Shanghai Science and Technology Museum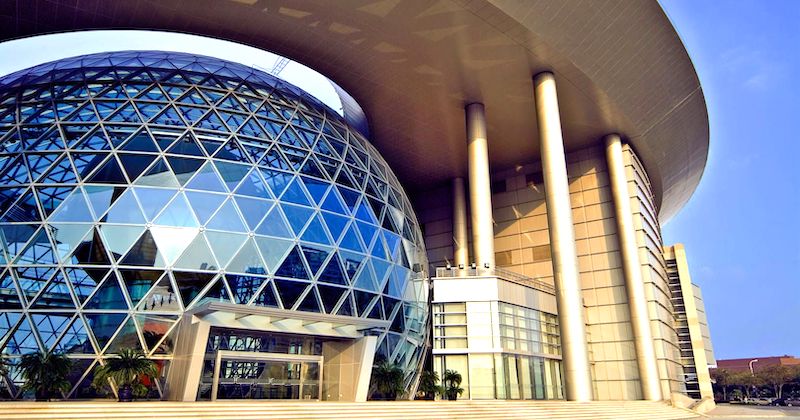 If computing, robotics, space travel and science-related stuff are your sort of thing, then this Shanghai attraction is a MUST for you. Located in Pudong, close to Century Park, Shanghai Science and Technology Museum is one of the most visited museums in China. The floors in the building (consist of a basement and four floors above ground) rise in a spiral which represents scientific progress.
22. Power Station of Art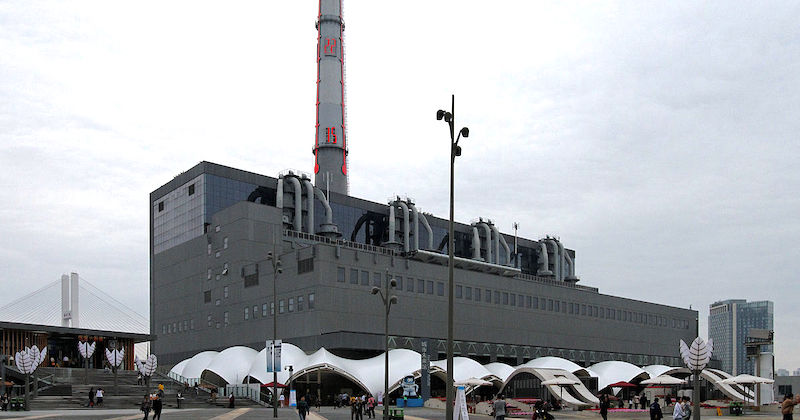 If you enjoy visiting modern buildings but with a historical twist to it, the Power Station of Art will appeal to you. Established in 2012, this Shanghai attraction houses a contemporary art museum in a former power station by the Huangpu River, sharing inspiration from the famous Tate Modern in London. Over here, you can find the creative work of modern artists sharing about the world we live in through art, apart from some of the city's biggest art shows occasionally hosted here.
23. Lu Xun Park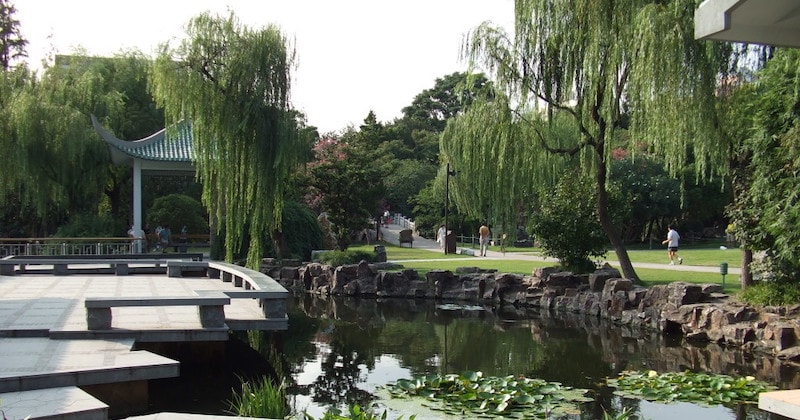 Just right behind the Hongkou Football Stadium is where Lu Xun Park, one of the best parks in Shanghai is located. This green space is also among the oldest parks in Shanghai, originally built in the late 1890s by a British garden designer, Donald MacGregor, taking inspiration from a park in Glasgow. It was later renamed to Lu Xun Park in dedication to Lu Xun, a famous writer from the early 20th century. You can find a bronze statue of him and his tomb here with inscription by Mao Zedong (founding father of the People's Republic of China).
Apart from this park being a historic place, you can also spend time being close to nature here. During the spring and summer, it becomes an exceptionally beautiful and photogenic place when the trees are in blossom with a big man-made lake in the centre of the park. There are also boats that you can rent for a ride on the lake.
24. Jing'an Temple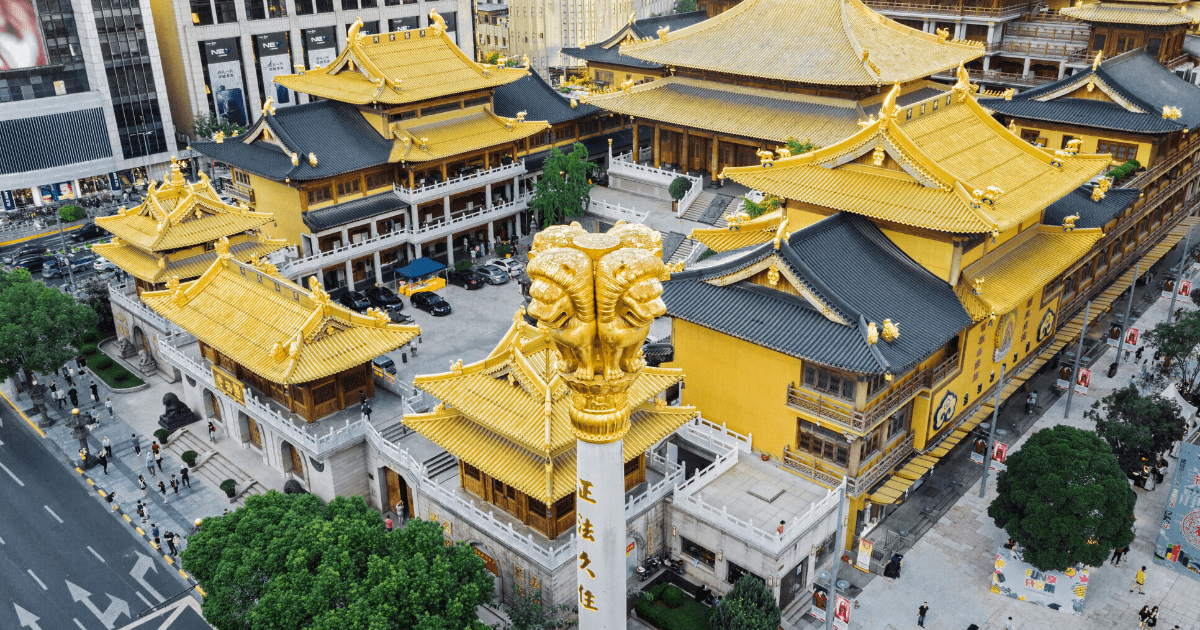 Residing in China's largest and modern metropolis stands a place that stood the test of time. The original Jing'an Temple was built in A.D 1216 and has gone through many relocations and restructuring up to 2010. This temple offers visitors an opportunity to see and appreciate the ancient architecture and also the many religious artefacts that reside here such as the 8.8 metres tall Silver Buddha, a 3.8 metres high white-Jed Sakyamuni, the wooden Guan Yin sculpture and many more.
25. Qibao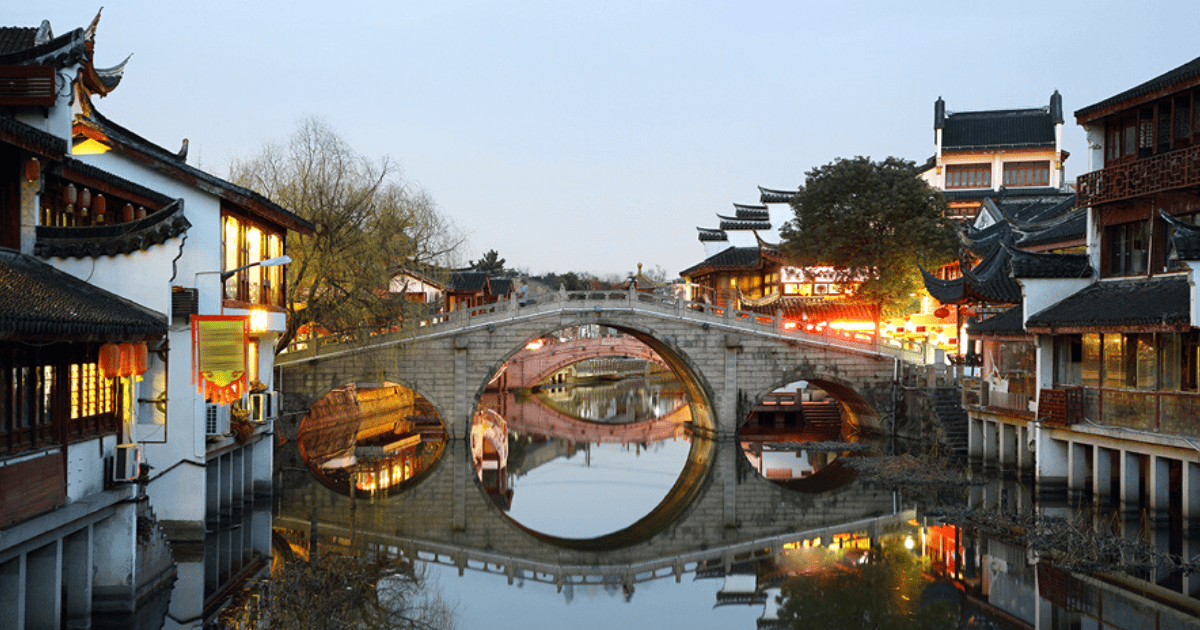 Qibao is an ancient town that is located 18 kilometres away from the city. Famous for traditional landscapes and authentics Shanghai cuisines, this is the best way to understand the culture and its customaries in a leisure setting. It is an ideal place to relax away from the hustle and bustle of Shanghai city. You will get to see lots of shops selling old crafts, calligraphy pens and traditional snacks; which makes a perfect souvenir to be brought home. As the place is also famous for its street foods, you must try out the Banana Rice in Bamboo Tubes, Stinky Tofu and Lamb and Rice Wine.
There are many attractions in Shanghai but if time is a factor, you can go with the "Hop-On, Hop-Off" tour bus to see it at your pace. You can skip the things you don't want to see or just sit on the bus and ride around town. It's perfect for short trips.
One last thing that you should know is that the food in Shanghai really is something else. Make sure that you pop into the traditional Shanghai-style eateries. Go for the ones that have the biggest lines as this means they're the best. One thing you shouldn't leave without tasting is xiaolong bao or soup-filled dumplings. You eat them upon a big white spoon by taking a small bite to so the spoon catches the soup, then eating it all. These dumplings are Shanghai's pride and joy and are different from dumplings you'll find in other parts of China.
Shanghai can be a bit expensive, particularly on the Bund, but it's worth it to feel part of the upper echelon here. After all, in a city this stunning, the best thing you can do is enjoy every part of the fabulousness.