Ho Chi Minh City / Cu Chi Tunnel / My Tho / Can Tho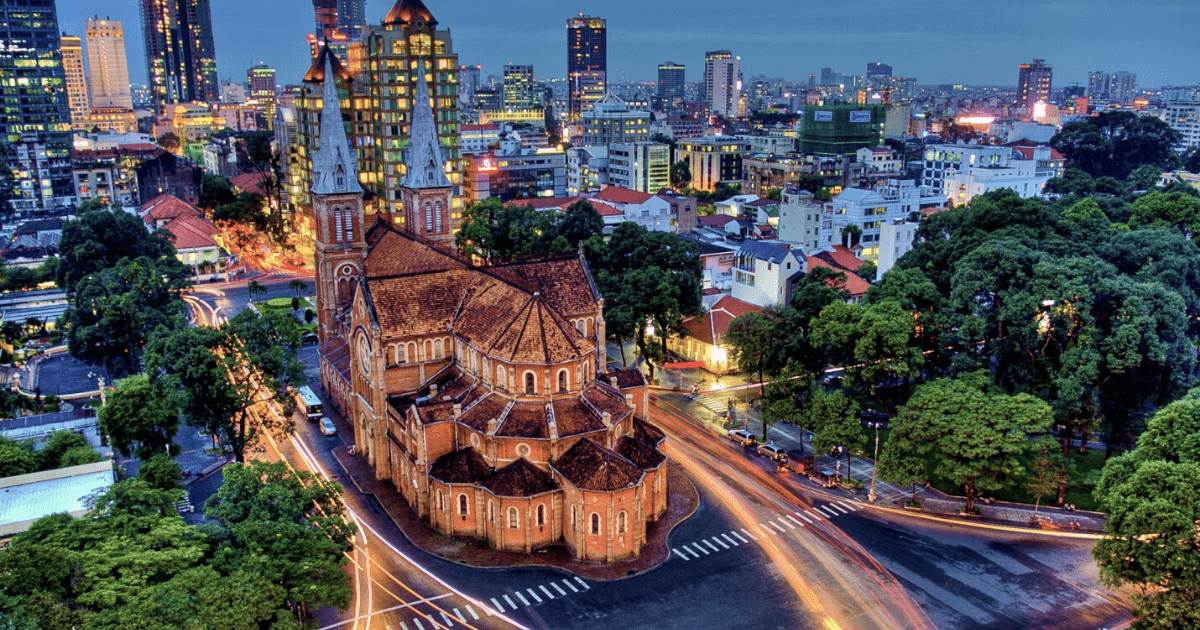 Travel Package by Malaysian Harmony
From RM1,799 / person
---
Overview
Day 1: Kuala Lumpur - Ho Chi Minh City
Upon arrival, dinner will be served on Saigon River Cruise with entertainment show along the Saigon River at the end of the day.
Day 2: Ho Chi Minh City – Cu Chi – Ho Chi Minh City
- Cu Chi Tunnels (Ben Dinh): proceeding to an underground hut to watch a short video and presentation about Cu Chi tunnels before having a real hand-on experience of what it took to live in the tunnels. Afterward, test tasting the steamed tapioca root which is the main staple food in Cu Chi during the war. For those interested, there is an opportunity to fire off an AK47 or MK16 with real ammunitions at the nearby shooting range (on your own account).
- Drive back to Ho Chi Minh City
- War Remnants Museum: a sobering and unforgettable museum which details the effects of the 30 year long war between America and Vietnam
- Notre Dame Cathedral: one of the few remaining strongholds of Catholicism in the largely Buddhist Vietnam
- Saigon Post Office: glorious example of French colonial architecture, perfectly preserved with as much style as when it first opened in 1891
- People's Committee Hall: well-preserved French colonial architecture in a spacious garden landscape. Originally constructed as a hotel in 1898 by French architect Gardes, it now serves as a city hall and one of the city's most iconic landmarks
- Ben Thanh Market: great for experiencing the local lifestyle and sampling unique Vietnamese-Chinese delicacies
Day 3: Ho Chi Minh City – My Tho – Can Tho
After breakfast at hotel, depart for My Tho. - Vinh Trang Pagoda: Giant Buddha statues tower over the beautiful grounds of this peaceful temple, where the monks maintain an ornate sanctuary, decorated with carved and gilded wood. They also provide a home for children in need
- Boat trip Mekong River: Board a wooden motor boat (20 minutes) to Unicorn Island. On this boat along the river's bank, you'll be passing through natural creeks, interesting fisherman's port, stilt houses (half on land, half on water). From there, we'll take you to a bee farm where you have a chance to taste a tasteful cup of authentic honey tea. After that, we walk around quiet villages and watch the life of rural people in Mekong Delta. We are divided into many groups and get on small rowing boats. During this 15 minutes trip, you'll witness all kind of interesting transportation modes that local people use to move around. Afternoon cruise a canal whose 2 long sides are orchards. After that, we cruise to a village where the sweat smell of coconut candies are in the air. To satisfy your curiosity, we'll get to a village that has many small shops that make coconut candy and handcrafted items from coconut trees of Mekong Delta. You might learn that those people can amazingly make dozens of useful products out of coconut trees. It is indeed inseparable from the villagers' life. Visit an orchard that has many different types of tasty tropical fruits for your enjoyment. You can enjoy the fruits for free while checking out the folk music that is typical to only the people in Southern Vietnam.
- Proceed to Can Tho
Day 4: Can Tho – Ho Chi Minh City
- Cai Rang floating market: Early in the morning, board a boat and travel for about 40 minutes to visit Cai Rang floating market. This is the largest of its type in the whole Mekong delta. After that, we continue on our riverine route for 5-7 minutes and then on foot for about 5 minutes to reach a noodle and a rice paper factories. The next stop is a rice processing factory where you'll learn the many steps that transform 'rice with a brown cover' to the delicious and beautiful rice grain that we consume daily.
- After lunch, drive back to Ho Chi Minh City.
Day 5: Ho Chi Minh City - Kuala Lumpur
Breakfast at hotel. Free until transfer to airport for the flight back home.
---